Giant heroin spoon dropped to protest opioid-making pharma (PHOTOS)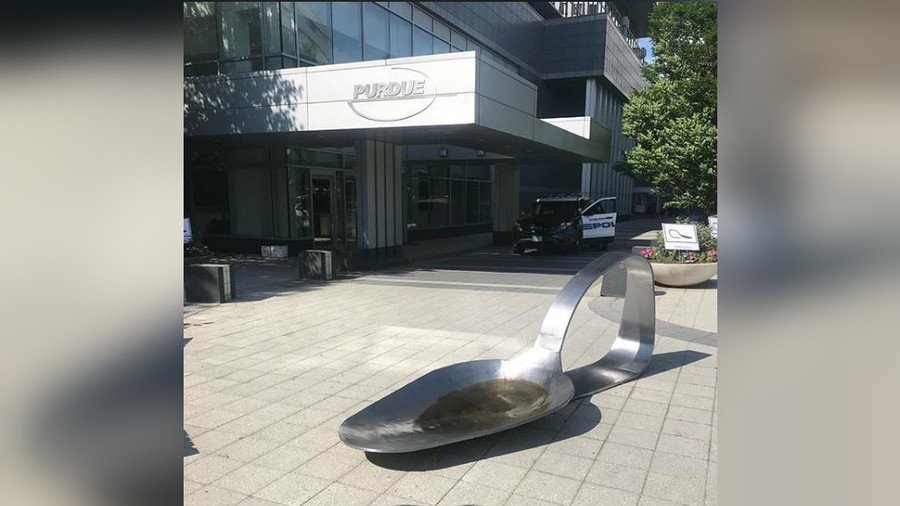 A gallery owner who left a giant 800-pound heroin spoon outside the manufacturers of highly-addictive drug oxycodone has promised to recreate the stunt in his fight against opioid use.
Fernando Luis Alvarez is facing a criminal misdemeanor for leaving the massive burned spoon outside the headquarters of Purdue Pharma in Stamford, Connecticut.
READ MORE: 'Soaked in Spice': UK inmates smoking 'solicitor letters' dipped in mind-altering drugs
The pharmaceutical giant manufactures OxyContin, extended release tablets containing opioid oxycodone, which also retails under the brand name percocet. OxyContin now carries a warning of "addiction, abuse and misuse" as well as information about a risk of "life-threatening respiratory depression".
However in 2007, Purdue Pharma pleaded guilty to misleading health regulators about the risk of addiction surrounding the painkiller and agreed to pay out $600 million in damages. The firm is owned by the billionaire Sackler clan, among America's richest families, according to Forbes.
According to Time magazine, Alvarez plans to "gift" similar sculptures to other drug companies.
"I have been extremely bothered and moved by the architects of this epidemic," Alvarez told Connecticut's Hartford Courant newspaper. "I want to hold this family [the Sacklers] responsible for what they created."
Boston artist Domenic Esposito created the massive piece of drug paraphernalia as part of the 'Opioid: Express Yourself' show at the Fernando Luiz Alvarez Gallery. He posted an image of the spoon on Instagram last Friday.
"Dropped my sculpture in front of Purdue Pharm this morning," he stated. The sculpture was subsequently removed. Representatives of Purdue Pharma have since released a statement saying it is working to reduce deaths related to opioid abuse.

READ MORE: 13 percent of people have drugs on their fingertips – study
"We share the protesters' concern about the opioid crisis, and respect their right to peacefully express themselves. Purdue is committed to working collaboratively with those affected by this public health crisis on meaningful solutions to help stem the tide of opioid-related overdose deaths," Purdue Pharma said.
In February, the company announced that it was reducing its promotion of opioids.
"We have restructured and significantly reduced our commercial operation and our sales representatives will no longer promote opioids to prescribers," the company stated.
Like this story? Share it with a friend!
You can share this story on social media: