Blunderful Giuliani says US wants to change regime in Iran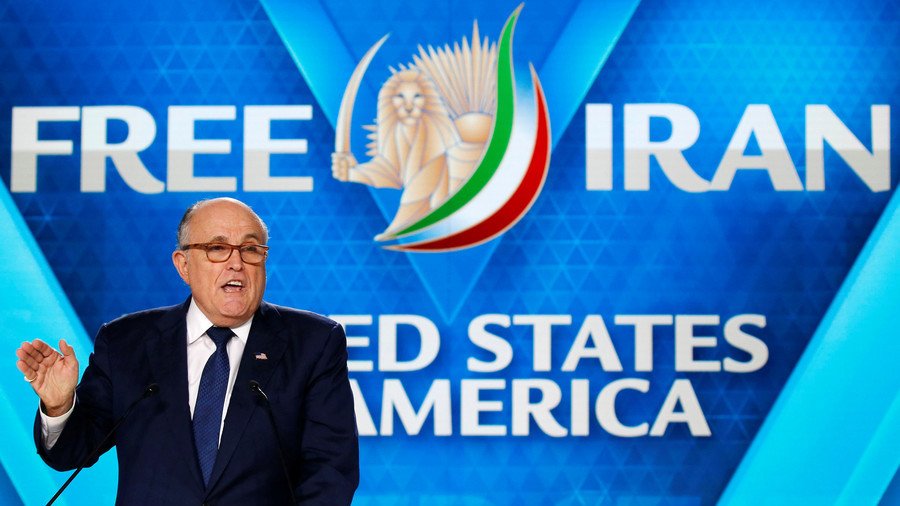 Donald Trump's personal attorney Rudy Giuliani has once again risked the wrath of the US State Department, by suggesting that the president's decision to reimpose sanctions on Iran is aimed at bringing about regime change.
Addressing an event organized by the National Council of Resistance of Iran (NCRI), a Paris-based exile group, the gaffe-prone former mayor of New York said that Trump's decision to pull out of the Iran nuclear deal and reintroduce sanctions was the beginning of the end for the regime.
READ MORE: That's just Rudi: State Dept disowns Trump lawyer's comment on regime change in Iran
"When the greatest economic power stops doing business with you then you collapse ... and the sanctions will become greater, greater and greater," he said on Saturday night, adding that the NCRI would be ruling Iran before 2019, according to Reuters.
Washington pulled out of the Iran nuclear deal in May, claiming, along with Israel, that Tehran is developing nuclear weapons. Other signatories to the hard-negotiated Joint Comprehensive Plan of Action (JCPOA), as well as the world nuclear watchdog IAEA, have said that Iran had followed all the requirements of the deal. While the US slapped Iran with sanctions and is now urging countries to stop buying its oil, the White House insists they are not involved in regime change.This is not the first time Giuliani has committed a diplomatic faux pas while speaking as a private citizen.
Trump's old ally Rudy seems not to follow the agenda. In May, he was slapped down by State Department spokesperson Heather Nauert after telling a meeting of the Iran Freedom Convention for Democracy and Human Rights in Washington that Trump is "committed" to regime change.
"[Giuliani] speaks for himself and not on behalf of the administration on foreign policy," Nauert told AP at the time.
Giuliani has been a source of much embarrassment for Trump as his loose lips on matters involving the Mueller investigation as well as Trump's relationship with porn actress Stormy Daniels became more outlandish.
READ MORE: Mueller's Trump obstruction probe to end by Sept 1 - Giuliani
In an appearance on Fox News, Giuliani appeared to destroy the administration's case in the Daniels affair, telling the broadcaster that Trump had actually reimbursed his lawyer Michael Cohen for a $130,000 payment to the porn star, after an alleged affair in 2006. Trump was later forced to admit that he had paid the adult film actress, a claim he had denied. However, he continues to insist there was no affair between the two.
If you like this story, share it with a friend!
You can share this story on social media: