'Got me good': Russian pop star Emin trolls Russiagaters in satire clip featuring Trump & Co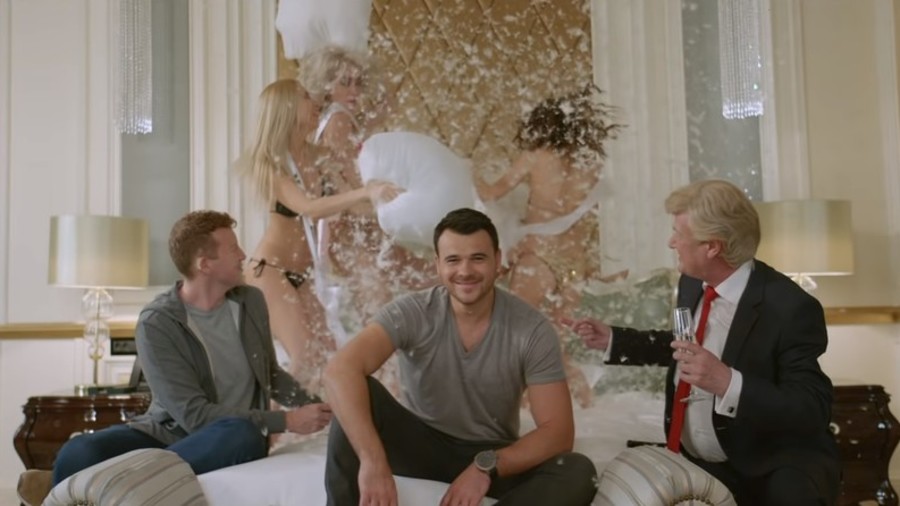 Russian pop star Emin ridiculed Russiagaters in a new clip, featuring lookalikes of Trump and others partying hard with Miss Universe contestants and taking shots together. Some in US media took the fun video too seriously.
Russian pop star Emin Agalarov, also known as Emin – his name surfaced in US headlines last year when it emerged he helped arrange a meeting between Trump's eldest son and a Russian lawyer at Trump Tower in 2016 – relentlessly trolled Trump-Russia collusion allegations in his new satire clip called 'Got Me Good'.
The three-minute music video opens up with a man who appears to be Kim Jong-un in front of several CCTV screens. Scoffing popcorn, he watches Emin encounter a woman in a lift who appears to be Stormy Daniels – the woman who claimed she had an affair with Donald Trump. The pair exchange a small stack of what appears to be money.
READ MORE: My meeting with Trump Jr. was inconsequential – Russian lawyer Veselnitskaya
Another scene shows Emin meeting with a couple appearing to be Ivanka Trump and Jared Kushner. Finally, the video moves on to Trump lookalike, whom Emin invites to a lavish hotel room. There they are seen enjoying the company of several bikini-clad women – portraying Miss Universe contestants – jumping on a king-size bed. While in the room, Emin sings directly at Trump: "I wish that you could have been honest, I wish you could have told the truth. But you keep on playing, and every time you go, you got me so good."
You may watch the official video here, but please, don't take it to heart if you sincerely believe Emin has something to hide.
Regrettably, there's a number of US media outlets who didn't follow our friendly advice, or, at least, common sense.
"It might be, I would guess, the first-ever music video that could be used as evidence in an impeachment trial," New Yorker's Adam Davidson wrote, "though it's difficult to say whether it could be used to prove Trump's guilt, or his innocence, or our inability ever to know anything about the man."
"Is Emin alluding that he knows something?" Vox asked. "Eventually, the whole group hangs out together to play a round of collusion poker, and the shadowy figure surveilling them all is revealed to be a popcorn-eating Kim Jong-un, because ... why not."
READ MORE: 'Inane nonsense': Trump Jr. releases Russian lawyer meeting emails
This is not the first time Emin has made a Trump-themed music video. In 2013, the tycoon-turned-president and that year's Miss Universe participants made a cameo appearance in Emin's video for the song 'In Another Life'.
"What's wrong with you, Emin? You're always late, you're just another pretty face. I'm really tired of you. You're fired," the real Trump says in the video.
Emin and his British music publicist, Rob Goldstone, helped arrange the June 2016 meeting between Donald Trump Jr., Jared Kushner, Paul Manafort, Russian lawyer Natalia Veselnitskaya, and Ike Kaveladze. According to an email later published by Trump Jr., Goldstone promised to arrange a meeting with Veselnitskaya, saying she could provide damaging information on Clinton to the Trump campaign.
The meeting with the Russian lawyer however turned out to be way less thrilling, as Veselnitskaya did not have any information on that matter and talked about the Magnitsky Act, according to Trump Jr., who described the talks as "a waste of time."
Like this story? Share it with a friend!