'No focus on Russian activities' - Donald Jr. on Trump Tower meeting in interview transcripts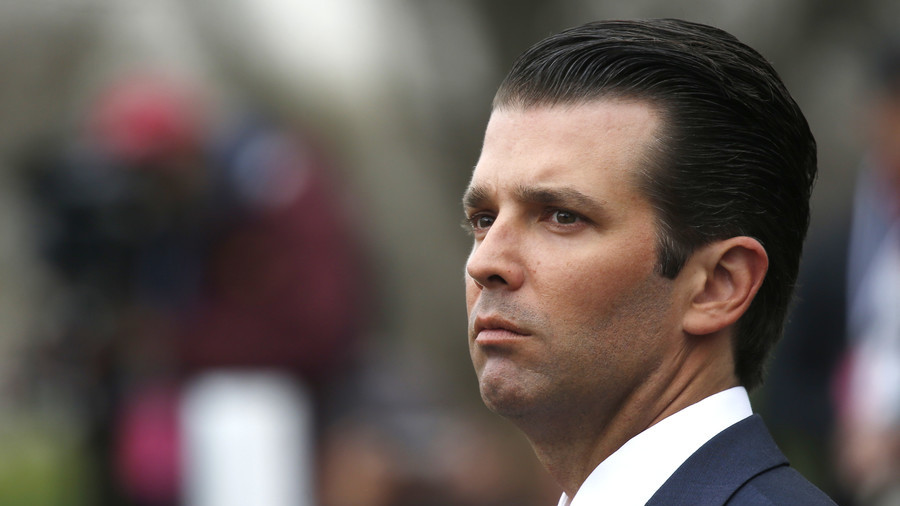 The 2016 Trump Tower meeting set up to reveal dirt on Hillary Clinton "infuriated" Jared Kushner, was a "waste of time" and had nothing to do with Clinton, according to transcripts of interviews with the meeting's participants.
The US Senate Judiciary Committee has released more than 1,800 pages of transcripts, which provide new insight into the controversial meeting during which Donald Trump Jr, along with Trump son-in-law Jared Kushner and then campaign chairman Paul Manafort, was expecting to receive "dirt" on Hillary Clinton from Russian lawyer Natalia Veselnitskaya.

Overall, the newly-released documents seem to indicate that a short 20-minute meeting resulted in hours of interviews and thousands of pages of documents for little reason.

In the transcripts, Trump Jr. said that he was skeptical that Rob Goldstone, the publicist who had been the first to contact him about a meeting, had colleagues who possessed incriminating information about Clinton, but said felt he should at least "hear them out."
He also said that it was important to note that when he accepted the invitation to go to the meeting there was "no focus on Russian activities" surrounding the campaign and claimed that Goldstone had not even confirmed the names of the attendees who would join them at the meeting.
Goldstone had set up the meeting on behalf of Russian musical artist Emin Agaralov, the son of a wealthy Russian businessman, but revealed in his interview that he later told Agaralov that the meeting was "the most embarrassing thing you've ever asked me to do" given that it ended up having nothing to do with Clinton. Goldstone also revealed that Veselnitskaya's apparently Clinton-free presentation in the meeting had "infuriated" Kushner.
In another indication that the meeting was not supposed to be a top-secret attempt for the Trump campaign to collude with Russia, Goldstone also revealed that he "checked in" to Trump Tower on Facebook when he arrived.
In a supplemental interview, Goldstone also told investigators that Russian President Vladimir Putin was not able to meet Trump during the 2013 Miss Universe pageant in Moscow, but invited him through a phone call with his spokesman Dmitry Peskov, organized by Agaralov, to attend the 2014 Winter Olympics in Sochi instead. According to Goldstone, Peskov said Putin would be happy to meet him there — but that meeting did not end up happening.

Anatoli Samochornov, a Russian translator who attended the meeting, said that no one present had said the Russian government either supported Trump or opposed Clinton for president. He also said there were no offers from the Russian side to release hacked emails, hack voting totals or anything else.
The other translator present, Ike Kaveladze, said he spoke to Agaralov about two hours after the meeting and told him it was a "complete loss of time" and a "useless" meeting.

The committee released the thousands of pages of transcripts along with hundreds of additional pages of related material, including the interviews with Goldstone, Russian-American lobbyist Rinat Akhmetshin and translators Samochornov and Kaveladze.
The meeting has been the subject of controversy, particularly the question of whether then-candidate Trump knew about it. Special Counsel Robert Mueller has looked closely at the meeting as part of his investigation into alleged Russian meddling in the 2016 election, which has not yet turned up any evidence of collusion between Trump and Russia.
Following the publication of the documents, Trump Jr. said they showed that he "answered every question asked" by the committee.
"I appreciate the opportunity to have assisted the Judiciary Committee in its inquiry," he said in a statement. "The public can now see that for over five hours I answered every question asked and was candid and forthright with the Committee."
Those who were present at the meeting said Veselnitskaya did not provide any 'dirt' on Clinton and instead focused on discussing the overturning of US sanctions placed on Russia under the Magnitsky Act. Those sanctions, which impose US entry bans and asset freezes on Russians alleged to have been involved in human rights abuses, are still in place and have since been expanded, most recently in December 2017 when five more Russian nationals were added to the Magnitsky List.
You can share this story on social media: