Police board LA-bound plane after pilot mistakenly triggers hijacking alarm (PHOTOS, VIDEOS)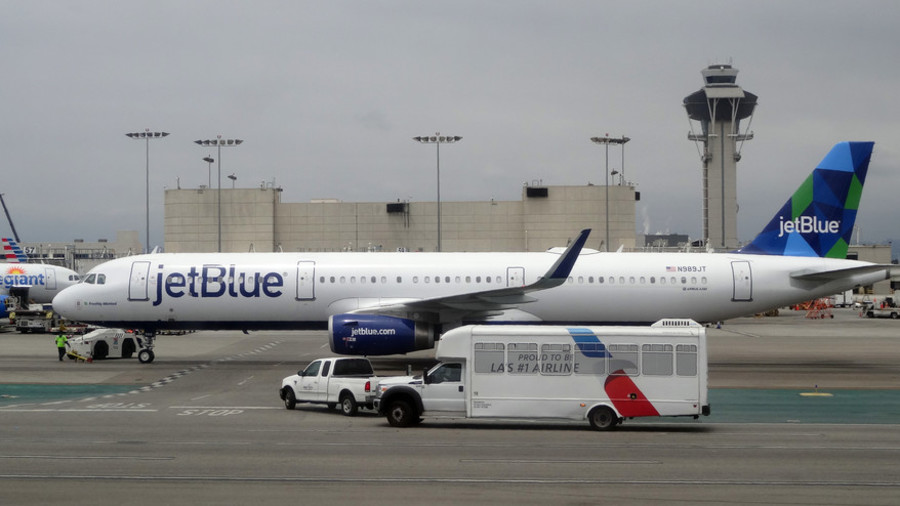 JetBlue passengers awaiting takeoff at New York's JFK International Airport were given quite a scare after heavily armed police boarded their plane in response to a suspected hijacking that turned out to be a false alarm.
The plane, which was preparing to fly to Los Angeles on Tuesday evening, was swarmed by police and SWAT cars after it stopped responding to air traffic control due to a radio issue. To make matters worse, the pilot had mistakenly sent out a hijack code notifying air traffic control that there was a security threat onboard, according to reports.
A photo tweeted from inside the aircraft shows sitting passengers with their hands up – apparently responding to police orders. In a separate video, a heavily armed officer is seen walking down one of the plane's aisles.
"I hate guns. They were pointing them, like, at us," passenger Alexa Curtis told local media. "It was traumatizing."
She said that some passengers thought that they were targets of a terrorist attack and feared for their lives.
"People were, like, crying. Everyone's texting their family, and we were on ground, so usually this would happen in the air if it was gonna happen," Curtis said. "People were ready to die."
The plane returned to the terminal, where passengers exited and boarded a new aircraft.
"While communication was reestablished via alternate channels, authorities responded out of an abundance of caution," JetBlue said in a statement. "The aircraft was cleared and returned to the gate for inspection."
Like this story? Share it with a friend!
You can share this story on social media: