77yo California man sets blaze & 'ambushes' first responders, killing 1 firefighter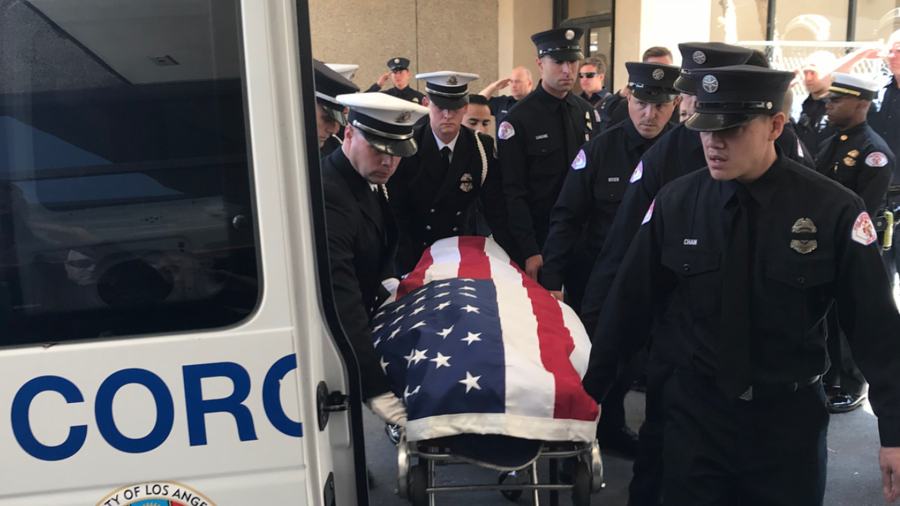 A firefighter responding to an explosion at a retirement home in Long Beach has been fatally shot by a senior resident of the facility, who also injured two more people in what authorities believe to be a planned ambush.
Just before 4:00 am Monday morning, an explosion rocked the Covenant Manor affordable senior housing facility in Long Beach, California. Responding to the scene, firefighters discovered a raging fire at the 11-story building, with windows blown out and sprinklers activated. After quickly putting out the flames on the second floor, Long Beach Fire Department officers went on to inspect the building after smelling gasoline. The Bureau of Alcohol, Tobacco, Firearms and Explosives (ATF) was also called to the scene.
As first responders proceeded with their inspections and evacuation of some 80 residents, shots were fired from within the building. Two firefighters and a civilian were shot in what appears to be an ambush by a resident of the housing facility.
READ MORE: Tesla car catches fire 'out of the blue' in California traffic (VIDEO)
Captain David Rosa, a 17-year veteran of the force, died from injuries he sustained in the shooting, authorities said. Another firefighter, Ernesto Torres, 35, suffered a graze wound but was discharged from a hospital after receiving medical treatment. An elderly male, whose name was not released, was also hospitalized in critical condition. He has undergone surgery.
It is with deep sadness and tremendous grief that we announce that Captain David Rosa has died from injuries sustained from a gunshot wound he sustained at an emergency incident. Capt. Rosa is a 17 year veteran of our department and is assigned to Station 10. pic.twitter.com/np03fecLQb

— Long Beach Fire (CA) (@lbfd) June 25, 2018
Eventually, authorities announced that they arrested the gunman, identified as 77-year-old Thomas Kim, a resident of the senior facility. By late afternoon, Kim was charged with murder, two counts of attempted murder and arson, Long Beach Police Chief Robert Luna told reporters.
A revolver was discovered at the scene in addition to two "suspicious devices," which were later cleared by the Los Angeles County Sheriff's Department bomb squad. Kim remains in custody with a $2 million set bail. Authorities are now trying to determine if Kim intentionally lured the first responders in a carefully planned ambush by setting off an explosion.
"We still have questions about the devices that were found and the suspect's intent which we do not have a full picture of," Luna said. "There is still a large puzzle we are trying to put together."
If you like this story, share it with a friend!
You can share this story on social media: