Tesla car catches fire 'out of the blue' in California traffic (VIDEO)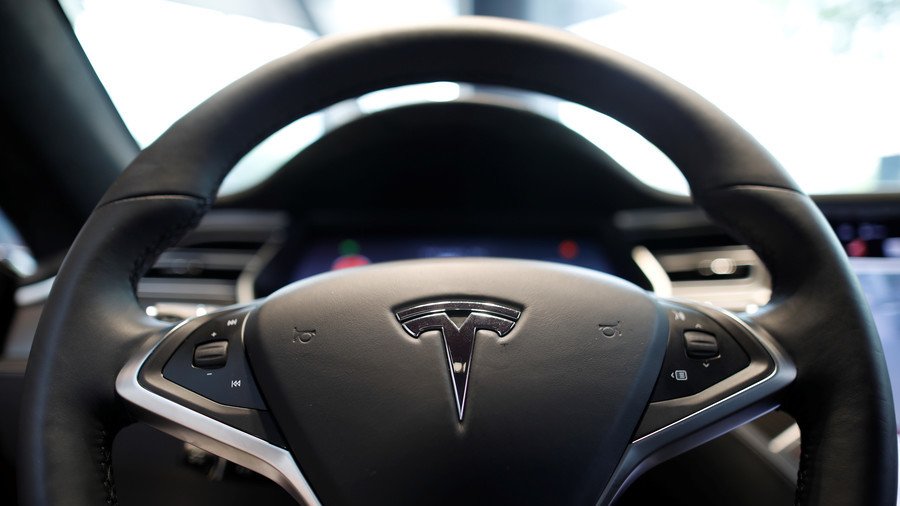 A Tesla vehicle caught fire, apparently "out of the blue," while sitting in California traffic. Video of the incident has been shared by US actress Mary McCormack whose husband was in the electric car at the time.
McCormack said her husband was in traffic on Santa Monica Boulevard when the vehicle suddenly caught fire. There was "no accident" and the blaze came completely "out of the blue," she said.
@Tesla This is what happened to my husband and his car today. No accident,out of the blue, in traffic on Santa Monica Blvd. Thank you to the kind couple who flagged him down and told him to pull over. And thank god my three little girls weren't in the car with him pic.twitter.com/O4tPs5ftVo

— Mary McCormack (@marycmccormack) June 16, 2018
Passersby flagged down the driver who then got out of the vehicle. Video recorded at the scene shows flames shooting from underneath the parked car.

The electric car did not have an autopilot feature and was a "normal Tesla,"according to McCormack.
Sheriff's Lt. William Nash in West Hollywood said that deputies saw smoke coming from the electric vehicle and then fire. Firefighters were called to extinguish the flames. Nash said the log entry cited the possibility of a faulty battery, however, McCormack said on Twitter that they hadn't yet received an explanation for the sudden blaze.
Tesla called the incident "an extraordinarily unusual occurrence" and said it was investigating the matter.
READ MORE: Elon Musk's 'Pravda' to rate credibility of journalists & publications
The company is facing intense scrutiny after several incidents involving its vehicles. Last month, a Tesla burst into flames after a fatal crash in Switzerland. In the US, investigations were launched after a Model S crashed into a concrete wall and caught fire in Florida, killing two teenagers. Another Model S, with an autopilot feature, crashed into the back of a firetruck in South Jordan, Utah.
Tesla founder Elon Musk has criticized media coverage of crashes involving his vehicles and claims the cars are at least 10 times less likely than a gas car to catch fire, citing data from the National Fire Protection Association and US Federal Highway Administration.
You can share this story on social media: