Saudi Arabia has a new Qatar plan: MbS is going to dig himself out of a hole, which he made himself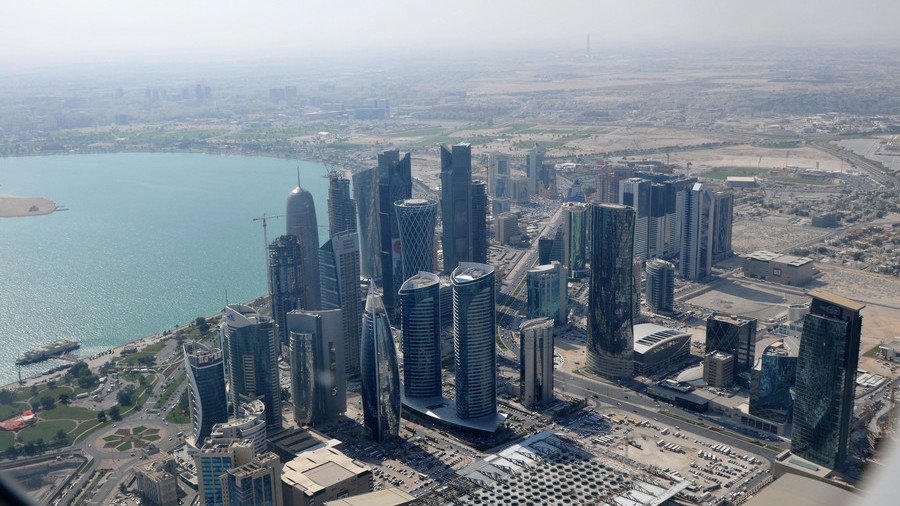 Don't laugh. Riyadh is going ahead with plans to dig a canal along its border with Qatar making it an island. But will the PR stunt distract media attention away from its own internal crisis, not to mention Qatar's 'independence'?
In just 12 months, the so-called Qatar Crisis – Saudi Arabia's nefarious bid to make its tiny neighbour a pariah state – has not only failed spectacularly, but is actually making Qatar a winner, as it lugubriously embraces a destiny of autonomy – entirely manufactured by Riyadh.
Qatar has good working relations with Iran, is sympathetic to a number of groups in the region which the Saudis are sworn enemies to, and, by and large, refuses to accept Riyadh's own regional and foreign policy. The Saudis are also envious of Qatar's gas wealth and Al Jazeera's impact on the news agenda around the world.
And yet, one year on, after initiating a sea and land blockade and attempting to isolate Qatar, the Saudi move has made Qatar shine. The blockade has done exactly the opposite of what was intended and Qatar now has a new lease of life, with the country embracing a new independent zeal, both commercially and geopolitically, with its leader Sheikh Tamim bin Hamad Al Thani at the helm of a new nation, seen as Qatar's own Che Guevara iconoclast.
Qatar is a winner because it has sustained the beating from Saudi Arabia, the UAE, Bahrain, and Egypt. Despite having to reorganise its trading partners, change its national carrier's airspace corridors and work on trade with Turkey, Iran, and others, it has actually reformed and modernized its economy and boosted its image around the world as a consequence – which in turn has made the rest of the world look at the isolation led by the Saudis with even more skepticism.
It's not just about Turkey, Iran, and Oman helping Qatar with goods on the shelves. It's about the Qataris themselves being forced by the Saudis to reinvent themselves – a move which could threaten the already weakened six-state Gulf Cooperation Council (GCC), which took its 'foreign policy' doctrine from Riyadh. Qatar's move is stating that this model of choosing between Saudi Arabia's geopolitics and those of Iran and its allies (Russia and China) is outdated. Qatar is joining a tiny group of Middle Eastern countries which are looking to a more autonomous model – like Turkey – which doesn't see Iran as a regional threat.
Qataris have tasted freedom, and free from the shackles of Saudi foreign policy bullying, are loving every minute of their shiny new state. But Riyadh is buckling under the pressure of the blunder. With both Qatar now effectively no longer a partner of the GCC (and question marks over Oman as a member, which supported Qatar) and foreign investment in Saudi Arabia crashing to an all-time low, Mohammad bin Salman (MbS) needs a new plan for Qatar.
MbS needs to dig himself out of a hole entirely created by the Qatar fiasco. And that is what he plans to do. Literally.
The Saudis believe now that despite losing considerable face around the globe for their Qatar escapade, they need a new PR plan which will distract media away from the real crisis they are facing internally themselves. With almost no foreign investors left in the Kingdom, the Saudis need an ingenious media campaign to distract journalists away from growing internal problems.
And they have one, which despite appearing a tad barmy, might just work.
Plans to dig a massive sea canal skirting along Saudi Arabia's border with Qatar have been given the go-ahead by MbS. The bold plan, costing almost a billion dollars, is expected to be the final message to Qatar that it will be cut off forever from any land ties with Saudi Arabia – with one pro-Saudi journal even comically going as far as to warn that Saudis in their home country would not be able to travel to the World Cup in Qatar in 2022 with such a canal in place. Riyadh plans to cultivate the canal into a tourist destination with restaurants, beaches and marinas.
But the crackpot idea is fatally flawed as it is largely based on the same theme as the original one: that Qatar would be psychologically shaken too hard by being entirely dislocated at the hip with its Big Brother.
The Saudis have massively misjudged the Qataris again, it would seem. Unless of course they are hoping for an egregious amount of media coverage to the canal, which would cast a convenient shadow over the Kingdom's deeper problems. But just how long could that be drawn out?
How does the Saudi media machine work, exactly?
Better than you might realize. Saudi Arabia's own PR model, unlike other Arab countries, relies heavily on other GCC countries reprocessing their tomes of fake news and state-funded propaganda, coupled with an impressive number of heavyweight Saudi-financed think tanks in DC regurgitating the same stodge and an impressive phalanx of online bots contributing to the mix.
Don't laugh. It's a set up which serves them very well, and filling newspaper columns and the airwaves with 'news' manufactured in Riyadh – assisted by third-party, supportive outlets in the region who are happy to publish it without caring about its authenticity – is a policy which works pretty well.
And international media are only too happy to replicate it, given the almost entirely 'news free zone' that Saudi Arabia is, with no real media operating there in the first place – which, in turn, affects the ability for foreign journalists to operate there as well.
Case in point: women's driving licences. You would have thought this was a story which would be a news item both regionally and internationally for not more than one day. In reality this is a story which is going to run. And run. And run.
Every conceivable facet of this story is going to be stretched beyond its conceivable limits as it supports a media program which Riyadh has concocted which aims to promote the kingdom as modernizing, when in reality it is not doing anything of the sort politically.
Cinemas, pop concerts, and women driving. Yep, we got it.
But can we move on? Well, no, because that's all there is. A velvet revolution in the making is being churned out via the Saudi media machine designed to cover up an even fiercer internal crackdown, which has detained hundreds, embezzled billions from individuals' bank accounts and is making Saudi Arabia look to the rest of the world like the most oppressive, paranoid regime going.
The canal is not an antidote to Riyadh's paranoia but merely an extension of it. It will make Qatar an island (as Qatar is actually a peninsula) and will also reportedly create a military zone for the Saudis along with a nuclear dump. Subtle.
But wait. Here's more on women diving!
But the Saudi media machine will go into overdrive on it, so expect, like the women's driving licences, days, weeks and even months of the same subject being stretched out and played out in mind-numbing detail, over and over again. Think every single stage of the construction of the canal itself as being an article in a Saudi English language journal replicated in pages of verbose articles in English-language titles in the region, in particular the UAE. Even the Pakistani crane operator will have his 15 minutes of Andy Warhol fame with a story written about his work. Think an entire National Geographic documentary on the digging alone. Perhaps there will even be free video handout and other press kits on the tools themselves which do the digging.
And then, when it is built, there will be the development of the banks and the whole process will start again. This is really the plan. The Saudis believe that they can capitalize on the Qatari position to go it alone by flooding regional media with the banality of a construction project, confident that international media will dutifully copy and paste it.
Qatar's economy goes from strength to strength. Meanwhile, a number of credible reports in recent weeks have speculated that since an incident with a drone in April, the Saudi Crown Prince is avoiding cameras so as to not let his enemies know his exact whereabouts. If that is true, it could be argued that his 2030 vision to reform the country and its economy will also be troubling him, given the dismal lack of confidence the foreign investor community has in the kingdom.
Foreign investors can barely scrape together a billion dollars for the new kingdom. The adage, it seems, of 'when in hole, stop digging' has failed to reach Riyadh. But can you blame them when Western media hits new all-time lows in its reporting on the region?
Martin Jay is based in Beirut and can be followed on @MartinRJay
Like this story? Share it with a friend!
The statements, views and opinions expressed in this column are solely those of the author and do not necessarily represent those of RT.
You can share this story on social media: