'As crimes pile up, they become invisible': Western complicity in Saudi Arabia's dirty war in Yemen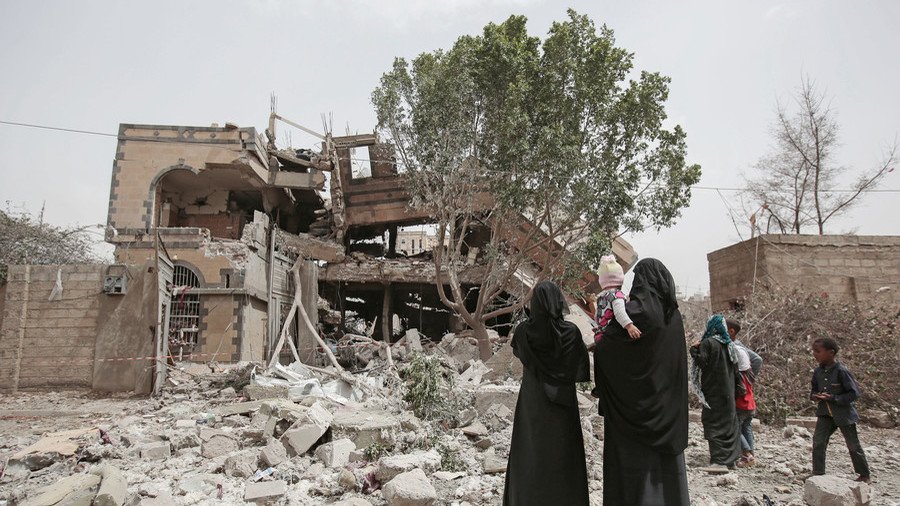 The complicity of Western governments in the ocean of suffering being wrought in Yemen exposes them as agents of Saudi brutality.
After three years of relentless conflict, it has been estimated that out of a population of 27.4 million, 22.2 million people in Yemen are in need of humanitarian assistance, 17 million are food insecure, 14.8 million lack basic healthcare, 4.5 million children are suffering malnourishment, while 2.9 million people are internally displaced. As for dead and injured, the toll stands at almost 10,000 and 50,000 respectively.
As a result of the conflict, the country is also facing the "largest documented cholera epidemic of modern times." And this epidemic can only have been intensified by the Saudi bombing of a cholera treatment center in the west of the country, causing the French NGO Médecins Sans Frontières to halt their work at the facility.
Yet despite this mammoth scale in human suffering, the Saudi-led Sunni coalition's war not only continues, it has intensified with the unleashing of a massive air, land and sea offensive against the Houthi-controlled Red Sea port city of Hodeidah, one of the last remaining points of entry of food, medicines, and other essential humanitarian aid into the beleaguered country.
According to Amnesty International, "Hodeidah's port is crucial to a country that is 80% dependent on imports to meet basic necessities. Cutting off this crucial supply line would further exacerbate what is already the world's worst humanitarian crisis." Thus the "assault on Hodeidah could have a devastating impact for hundreds of thousands of civilians – not just in the city but throughout Yemen."
Yemen, on the southern tip of the Arabian Peninsula, is the poorest country in the Middle East, with a per capita GDP prior to the conflict of just $1,400.
President Abd Rabbuh Mansur Hadi heads the country's internationally recognized government. In the accustomed manner of legitimate leaders, however, Hadi is currently living in exile.
President Hadi was elected as sole candidate for the office of president in 2011 after his predecessor, Ali Abdullah Saleh, relinquished power in the face of growing and sustained protests during the Arab Spring. Saleh had led North Yemen since 1978 before assuming the presidency of the Republic of Yemen in 1990, upon the reunification of the country's northern and southern halves.
The former president, whose reign was mired in allegations of corruption and mismanagement of the country's resources, aligned himself with the very Houthi minority which played a role in ousting him during the aforementioned Arab Spring protests, when their rebellion against Hadi's government began in 2015.
The casus belli of the Houthi rebellion was President Hadi's refusal to countenance more autonomy for the Shiite minority upon assuming office. As for Saleh, the Houthis killed him at the end of 2017 after he broke with the rebellion and declared his willingness to enter into dialogue with the Saudis over the country's future.
What we have in Yemen, as we can see, is a crisis that is complex even by Arab standards.
Yemen has long been buffeted by the stifling domination of the Arabian Peninsula by Saudi Arabia. This domination, in service to Riyadh's puritanical Wahhabi sectarian ideology, is partly fueling the rebellion of the country's Houthis, for whom President Hadi is a Saudi puppet.
This being said, that the insurgency enjoys the sympathy if not open support of the wider Yemeni population is measured in its success in taking control of the country's capital, Sanaa, along with other urban centers such as the port city of Hodeidah.
Taking a wider view, the conflict is considered part of an ongoing regional proxy war between Iran and Saudi Arabia. From the rebellion's outset in 2015, Riyadh has claimed that the Houthis are an Iranian proxy, thus justifying their own involvement. However, in 2015, veteran Middle East correspondent Patrick Cockburn was writing that this claim was "widely seen as propaganda or an exaggeration."
Three years on and the Iranians are now certainly involved, supplying the Houthis with weapons and, according to some sources, also military advisers. Thus, Saudi Arabia's intervention in 2015 on the spurious claim of Iranian involvement has become a self-fulfilling prophecy.
Returning to Western complicity in the carnage and suffering being meted out to the Yemeni people, never has there been a more naked example of hypocrisy masquerading as democracy. Indeed, the longstanding alliance between the US, UK and Saudi Arabia takes a scalpel to the oft-repeated boasts of Washington and London when it comes to their self-appointed role as champions and guardians of human rights and democracy.
Beginning with the Obama administration, and ramped up under Trump, US involvement in this brutal conflict has consisted of direct military airstrikes (carried out against Al-Qaeda and Islamic State targets, according to Washington), along with logistical, intelligence, and other non-combat support provided to the anti-Houthi Saudi-led coalition. This, of course, is not forgetting US arms sales to the Kingdom, consisting of over 50 percent of all US arms exports.
Meanwhile, in 2017, the Pentagon confirmed that US ground troops were also present in Yemen, again justified on the basis of being engaged in operations against Al-Qaeda and Islamic State (IS, formerly ISIS).
As for London's role in supporting the Saudi war effort in Yemen, UK arms sales have also been key to the Wahhabi state's ability to project hard power in the region, amounting to £4.6bn (US$6bn) since 2015 alone. As with the US, Saudi Arabia is the biggest market for UK arms sales and has been for a number of years.
In 2017, campaigners brought a legal case against the UK government over its sale of weapons to the Saudis, alleging that some of them have been used to kill Yemeni civilians.
In 2017, it was also revealed that Britain's role in the conflict has amounted to more than arms sales. A story appeared in the Daily Mail outlining details of hitherto secret military operation, known as Operation Crossways, which involved up to 50 British military personnel training Saudi troops destined to be deployed to take part in the conflict.
In response to this revelation, British Tory MP and former Development Secretary Andrew Mitchell lambasted it as evidence of the UK's "shameful complicity" in the suffering of the Yemeni people. Given the scale of this suffering, it would be safe to assume that all right thinking people share Mr. Mitchell's sentiments.
The war in Yemen is a dirty war, being waged by a Western-supported Saudi kleptocracy in the name of clerical fascism. Bertolt Brecht was right: "As crimes pile up, they become invisible."
Like this story? Share it with a friend!
The statements, views and opinions expressed in this column are solely those of the author and do not necessarily represent those of RT.
You can share this story on social media: