Saudi-led coalition strikes newly built Doctors Without Borders facility in Yemen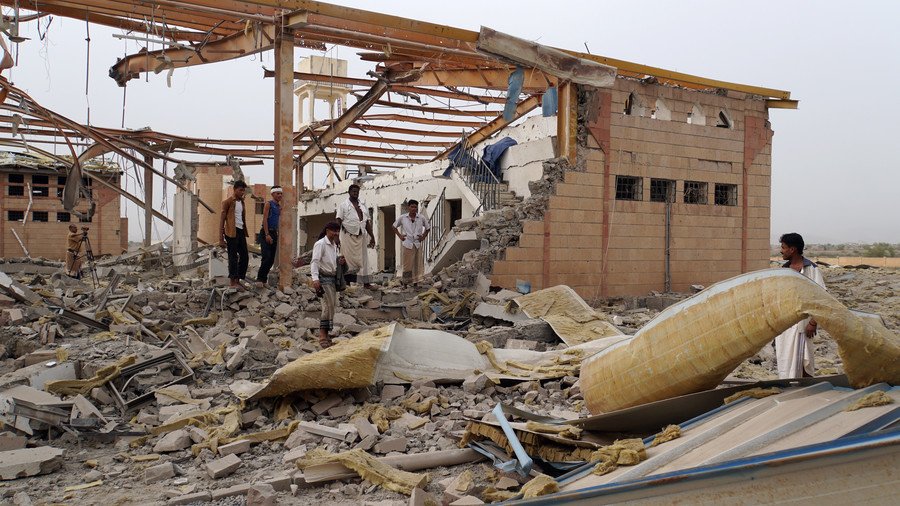 A newly built cholera care center, run by Doctors Without Borders (MSF) in the town of Abs, has been hit by Saudi-led coalition planes in yet another airstrike on the medical charity's facilities in war-ravaged Yemen.
The attack has rendered the center "non-functional," MSF said in a statement, with photos from the scene showing that the building's roof and some of the walls were completely destroyed in the airstrike. Luckily, the bombing in the Hajjah governorate did not result in deaths or injuries, because the "facility had not yet received any cholera patients and was empty," the statement read.
Doctors Without Borders stressed that the cholera treatment center (CTC) was hit despite "markings on the roof of the compound clearly identifying the CTC as a healthcare facility." According to MSF, the coordinates of the facility had also been declared to the Saudi-led coalition by the organization.
"This morning´s attack on an @MSF cholera treatment centre in Abs by the Saudi and Emirati-led coalition shows complete disrespect for medical facilities and patients. Whether intentional or a result of negligence, it is totally unacceptable." pic.twitter.com/1PUEQXSmvE

— MSF Yemen (@msf_yemen) 11 июня 2018 г.
"Whether intentional or a result of negligence, it is totally unacceptable," Joao Martins, the head of the Doctors Without Borders mission in Yemen, said. "MSF has temporarily frozen its activities in Abs until the safety of its staff and patients is guaranteed."
"CTC had been built to save lives," Martins pointed out, as the country is bracing itself for another outbreak of cholera. The fight with the disease is "far from over," the World Health Organization warned last week, adding that over a million people are currently at risk.
During the three years of violence since the Saudi-led military intervention in the country, Yemen has suffered the worst cholera epidemic in modern history, with over a million people affected, nearly half of them children, and more than 2,200 deaths, according to the UN.
In August last year, a Saudi-led coalition airstrike hit an MSF hospital, also located in Abs; that attack, in which 19 people were killed and 24 injured, became the deadliest among several such incidents during the conflict.
Saudi Arabia and its allies launched their first airstrikes against Houthi rebels in Yemen in March 2015, in an attempt to help reinstate ousted President Mansour Hadi to power. Since then more than 5,500 civilians have been killed and over 9,000 injured as of the end of 2017, according to the UN.
The majority of civilian casualties were the result of airstrikes, with the Saudi-led coalition being blamed by international human rights groups for indiscriminate bombings in Yemen. The US and UK have also faced harsh criticism for selling weapons to the coalition, which are then used against civilians.
Think your friends would be interested? Share this story!
You can share this story on social media: