Trump meets Kim: Diplomacy driven by personal touch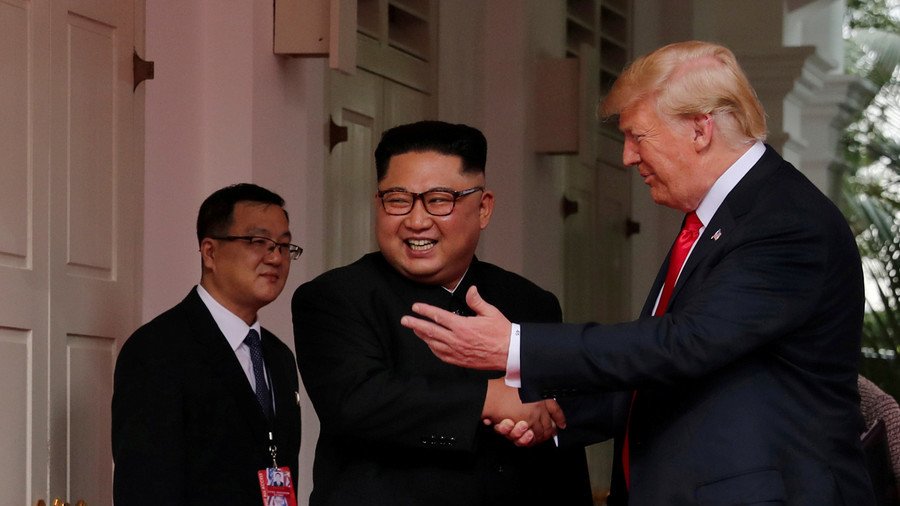 Whatever the outcome of the Singapore summit between US President Donald Trump and North Korean leader Kim Jong-un, it has already made history. Experts give RT insight on what lies beneath all the speculation and spin.
By virtue of it happening to begin with, the summit is a success, says former Pentagon official Michael Maloof, who was intrigued by Kim's opening statement about "overcoming historic obstacles."
"You won't see them holding hands," Maloof said, comparing the meeting with Kim's earlier summit with South Korean President Moon Jae-in at the end of March. The US and North Korean leaders need to establish a foundation of trust after decades of hostility. While any actual peace treaty would have to be signed by North and South Korea, China and the US are the major players in establishing peace in the Korean Peninsula.
"So far so good," former US diplomat Jim Jatras said. "By the terms at least the American side has set, there seems to be some chemistry" between the two leaders, Jatras added, referring to Trump's earlier claim that he would know if a deal was possible within the first few minutes of meeting with Kim.
"We've had a suspended state of war for seven decades now," Jatras pointed out, noting that the Korean War (1950-1953) was frozen by an armistice and never officially ended.
"This is ten times harder than the reconciliation between East and West Germany," Jatras said, adding that South Korea will be the key, as Seoul seems to really want to see reconciliation take place.
"Here in Asia, everything is about this summit," Brian Becker of the ANSWER coalition told RT from Singapore, where he is observing the meeting.
"Diplomacy is driven by leadership right now," Becker noted, pointing to Trump's role. "There's a high degree of personal touch."
One thing the media covering the summit seems to miss, Becker pointed out, is that the North Koreans "did not come here on their hands and knees, they are not here to surrender."
Historic moment meets media snark
US media coverage of the summit has reflected the major networks' often hostile relationship with the Trump administration. It seems likely that by Tuesday morning, someone will be accusing Trump of treason and negotiating with the enemy, legal and media critic Lionel told RT.
The "Trump derangement syndrome media" will declare the summit is just a photo-op and that the real talks will be done by "adults and experts" in the back rooms, Lionel said, adding, "I'm still looking at the picture of the president of the United States shaking hands with the leader of North Korea."
When two countries that have been technically at war for over 60 yrs finally have a summitt, why shouldn't their flags be "equal" in display? #CNN liberals shock me. What next, will they accuse #Trump of being a secret Muslim born in #Kenya? pic.twitter.com/ANoygFAwd9

— Caleb T. Maupin (@calebmaupin) June 12, 2018
To him, this was a historic moment on par with Ronald Reagan's "Mr. Gorbachev, tear down this wall," or even JFK's "Ich bin ein Berliner" speech, which the media of the time treated with a sort of reverence. Yet the media is determined to spin this as bad for Trump, says Lionel: if the meeting goes on for too long, or ends too soon, or whatever happens, it will be his fault.
"We all knew it was biased, but I never knew it was this bad," he said.
The non-stop belligerence toward North Korea in the MSM is quite extraordinary. The talking heads don't seem to understand that North Korea hasn't lost a war and & US hasn't won one. So demanding that North Korea immediately sign terms of surrender isn't a viable strategy.

— George Szamuely (@GeorgeSzamuely) June 12, 2018
No it isn't. That's ridiculous. It's what happens when two countries try to make the peace. Nothing less, nothing more. https://t.co/YBrUJExxCK

— Tim Shorrock (@TimothyS) June 12, 2018
A strategy worth trying?
Maloof points out that those who are critical of Trump reaching out to Pyongyang are not able to offer an alternative.
"People will criticize Trump for doing this. But previous presidents had a much more conventional approach, and it never worked. Why not try this?" he told RT.
Conservative commentator Steve Malzberg reasoned along similar lines. Pundits say any other US president could have done this, "but they didn't," he said. "What they chose to do did not work."
While Trump was open to direct talks, Malzberg pointed out that he also said he was open to using military force, and he got the UN to impose the toughest sanctions on North Korea - the policy of "maximum pressure."
In Trump, Kim is facing a US president who is determined to make sure the US is not threatened by North Korea, one way or another. That was not something the Obama, Bush or Clinton administrations have done previously.
"Why not meet with Kim right now? It's the right thing to do," Malzberg told RT. "When push comes to shove, Trump will prevail."
Like this story? Share it with a friend!
You can share this story on social media: