China redeploys missile systems on disputed South China Sea island (SATELLITE PHOTOS)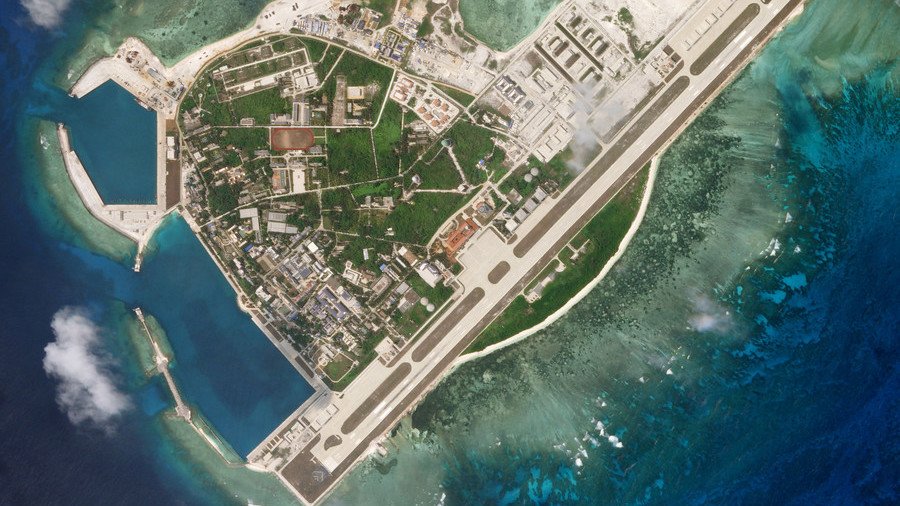 Chinese missile systems that mysteriously disappeared have been spotted again on the disputed Paracel Islands in the contested South China Sea, according to satellite images released by the Israeli company ImageSat International.
The movement of Chinese arms was initially reported on June 3, when surface-to-air missile systems of unknown models disappeared from Woody Island – the largest of the Paracel Islands. However, the coastal line remained empty for less than five days, as pictures taken on June 8 revealed that multiple missile systems are back again. ImageSat published the new satellite photos on Monday. Some of the missiles were earlier identified as HQ-9s, according to the South China Morning Post.
The South China Sea has been a bone of contention between China and several other regional players, with the Paracel Islands also being claimed by Vietnam. Another territorial dispute includes the Spratly Islands, for which Beijing is being challenged by Vietnam, Brunei, Malaysia, and the Philippines.
Apart from the regional powers, the US also pursues its interests in the region, regularly emphasizing the importance of freedom of navigation. Washington also has repeatedly slammed Beijing for beefing up military power there and disinvited China's navy from participating in the Pacific Rim 2018 naval drills, citing its "continued militarization of the South China Sea."
'Serious harm to sovereignty': Beijing angry after US destroyer sails near disputed islands
The Chinese defense ministry maintains that the deployment of the "necessary defensive facilities" is its "legitimate right of a sovereign state."
Washington often flexes muscles in the area, sending its warships to sail through the disputed waters, drawing ire from Beijing. In May, a US guided-missile destroyer and a Ticonderoga-class guided-missile cruiser came within 12 nautical miles of the Paracel Islands. The move was deemed a "provocation" and an infringement upon China's sovereignty by Beijing.
Like this story? Share it with a friend!
You can share this story on social media: