Expanding 'chokehold' on Russia: Analysts to RT on NATO's plan for new command centers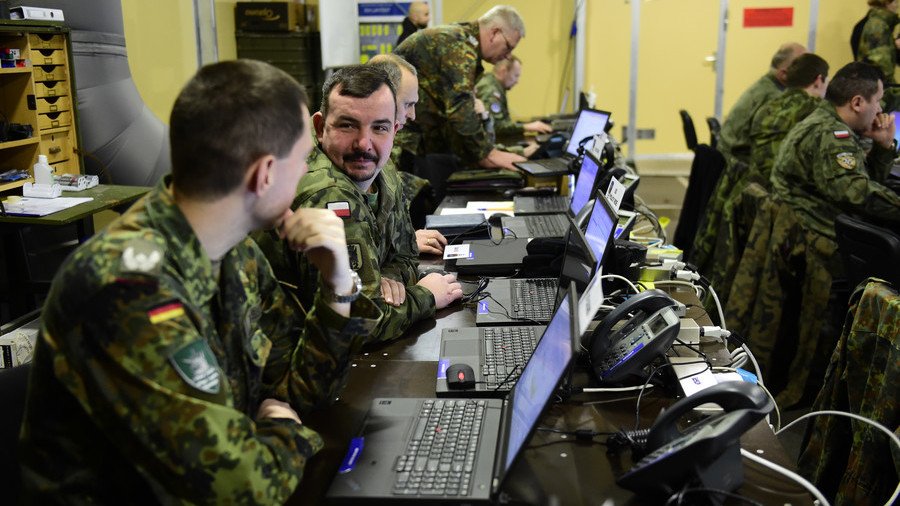 Building two command centers in the US and Germany, NATO is either preparing to take on Russia or executing its "suffocation" strategy against Moscow, military analysts told RT.
"NATO had 33 military commands during the Cold War, but they reduced the number of those commands to seven," Alexander Bartosh, former Russian diplomat and military expert told RT.
The alliance may be preparing to deploy troops and heavy weaponry from North America to Europe, he alleged, adding it explains the establishment of the new command centers. "This is exactly what the newly formed commands will be dealing with."
The western military bloc has made no secret of following the goal of "deterring Russia" citing its notorious mantra of perceived "threat" posed by Moscow.
But it's the US and NATO themselves who "are seeking to create a so-called suffocating ring embracing Russia from the north – namely, the Baltics – and eastern European countries," Bartosh countered.
The comment came on the heels of news saying NATO has green-lighted putting new command centers in the US and Germany. On Wednesday, NATO Secretary General had announced the bloc's Joint Force Command for the Atlantic will be based at Norfolk, and the new Enabling Command will be based in the German town of Ulm.
Also in the week, NATO defense ministers approved the so-called 'Four Thirties' initiative, said to enable the alliance to mobilize 30 land battalions, 30 Air Force squadrons and 30 warships within 30 days or less.
The military bloc is deploying troops and materiel to Europe to prepare for a future war with Russia, posited Igor Korotchenko, military expert and editor-in-chief of Russia's National Defense magazine. "They are developing and carrying out relevant plans," he argued.
The analyst said building two command centers in Norfolk and Ulm has nothing to do with Western militaries trying to get more budget money. "Budget appropriations are fairytales for idiots," Korotchenko said. "What is really going on is building up military infrastructure and command-and-control facilities aimed at waging war with Russia."
The US-led alliance boosted its military presence and ramped up the number of drills in Eastern Europe after Moscow's reunion with Crimea and the beginning of the military conflict in Ukraine in 2014. Moscow has been consistently warning that such a build-up at its doorstep undermines security climate on the European continent.
It has been recently reported that Poland was in favor of paying $2bn for permanent presence of US troops in the country. Moscow called the move a "dangerous initiative," saying that such a deployment jeopardizes regional security and makes Poland "one of the main targets in case of a possible conflict."
Think your friends would be interested? Share this story!
You can share this story on social media: