'Trump feels he is breaking free of the shackles of Russia collusion nonsense' – Jim Jatras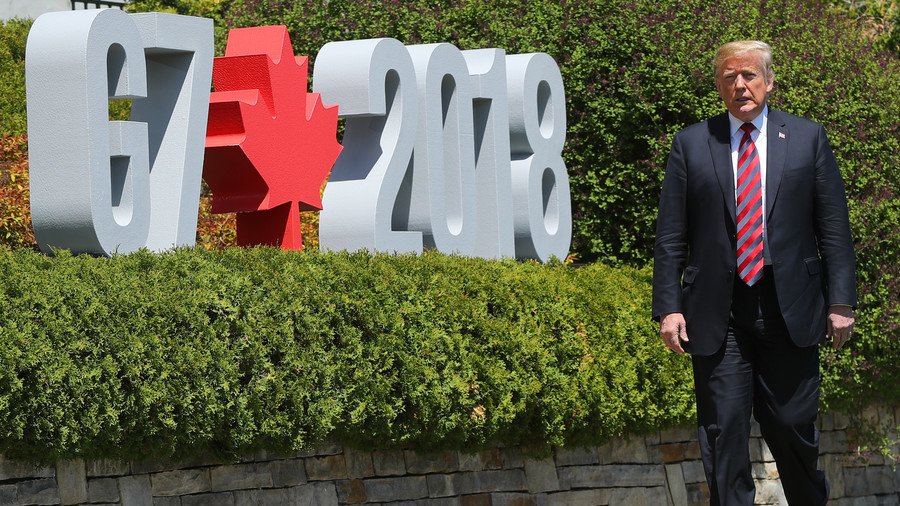 US President Donald Trump went to the G7 Summit to say to the trading partners: "No more free lunch.' And he wanted to bloody their noses a bit, former US diplomat Jim Jatras has told RT.
Trump has repeated his call for Russia to be invited back into the G7 saying that member states already spend so much of their time talking about Moscow.
"You know, we spend probably 25 percent of our time talking about Russia, and I said wouldn't it be better if they were here," Trump said, in an interview with Fox News' Bret Baier.
RT discussed Trump's latest statement with former US diplomat Jim Jatras.
RT: Trump says Russia should rejoin the Group of Seven. Do you agree with him?
Jim Jatras: Of course Russia should be in the G8. This is a forum for dialogue. It is not so much a formal body but a way for the world's leaders of the top economies to talk to each other. I think Trump is starting to feel his stride a little bit. He had some of it with Kim, he slapped around everybody at G7 except for Mr. Conte from Italy, who is his new best friend.
Just watching Theresa May melt down was worth a price of a mission right there. He is talking now about a summit with Mr. Putin that Austria has volunteered to host and that Angela Merkel has actually endorsed. I think he feels that he is sort of breaking free of some of the shackles of all this Russia collusion nonsense and it makes people's head explode for him to suggest things like that. I think it makes him all the happier, especially when he can take a slap at Barack Obama in the process.
RT: Responding to Trump's remarks, Kremlin spokesman Dmitry Peskov said Russia is focusing on other global forums. Do you think Moscow really cares whether it is let back in or not?
JJ: I don't know. Maybe they are showing their dignity here by saying that we've got better things to do, we are not going to beg to be allowed back in. But I think if there were a decision made by the G7 to invite Russia back in, make it G8 again, I think it would be the prudent thing for Moscow to say 'Yes'.
RT: The G7 includes Canada and Italy, which some might say are not leading world powers, and it excludes countries such as China and Russia. So does the organization, in its current form, have any real authority?
JJ: No, not as an organization. Of course, it is supposed to be the leading world economies. And what that basically means that the US, European economies and Japan. Of course, Italy is a major world economy… So, I don't think it is a completely incoherent body there but I think it is one of the reasons that some of these countries are hesitant to let Russia back in because they say, well, "Is Russia really democracy?" Surely, China is not. But Russia is and Russia should be back in the G8.
READ MORE: Trump warns Trudeau: Trade row 'will cost Canada a lot of money'
RT: Trump had a highly publicized feud with the prime minister of Canada, after the recent G7 summit. Do you think his remarks about Russia are directly related to that?
JJ: I think they are somewhat related in a sense. Some people said he had a bad G7 meeting and it was a bad summit. I don't think it was bad at all. He went there in connection with his announcement on tariffs to say to our trading partners: "No more free lunch, that we are not going to continue to practice free trade while you practice mercantilism." I think he wanted to bloody their noses a bit, and I think that Mr. Trudeau just happens to be a convenient patsy for that.
Like this story? Share it with a friend!
You can share this story on social media: