Trump warns Trudeau: Trade row 'will cost Canada a lot of money'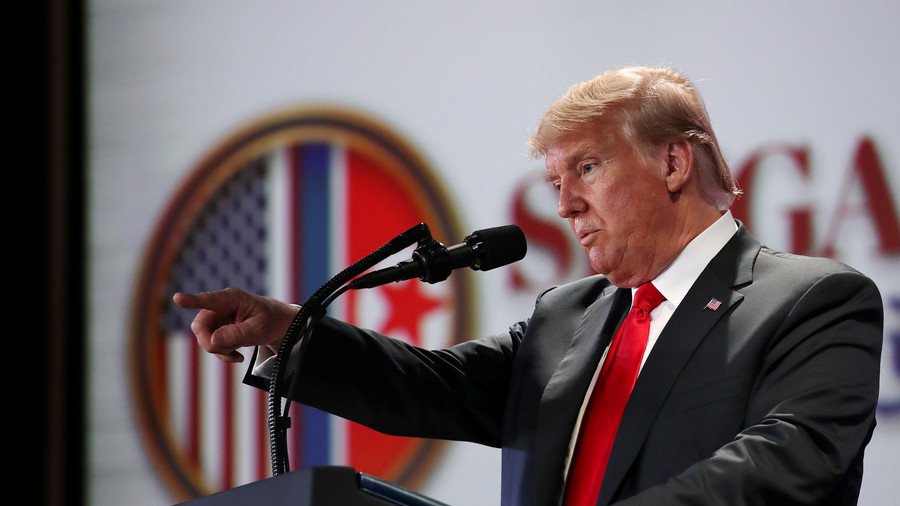 US President Donald Trump has said that Canadian Prime Minister Justin Trudeau's criticism of his trade negotiation tactics following the G7 summit is "probably going to cost the people of Canada a lot of money."
Speaking during a press conference following his meeting with North Korean leader Kim Jong-un in Singapore, Trump suggested Trudeau's remarks during the G7, in which he claimed that Canada "will not be pushed around" by the US, has soured the relationship between the pair.
Trump had informed the Western allies of his plans to impose new tariffs on steel and aluminum imports from Canada, the European Union and Mexico. The move caused consternation among other members, leading Trudeau to promise to "move forward with retaliatory measures" in a news conference scheduled after Trump had left.
READ MORE: Was Trudeau wearing fake eyebrows at the G7 summit? (POLL)
"Justin probably didn't know that Air Force has about 20 televisions," Trump said. "I see the television and he's giving a news conference about how he 'will not be pushed around' by the United States. And I say, 'Push him around? We just shook hands!"'
"I had a good relationship with Justin Trudeau, I really did. Other than he had a news conference because he assumed I was on an airplane and wasn't watching. He learned. That's going to cost a lot of money for the people of Canada."
Trudeau had attempted to keep relations cordial in comments to reporters as he arrived at a cabinet meeting in Ontario. "We support the continuing efforts by the president on North Korea [and] we look forward to looking at the details of the agreement," Trudeau said, according to CBC.
Refusing to be drawn on Trump's comments on Twitter that he is "weak" and "dishonest," Trudeau said: "I'm going to stay focused on defending jobs for Canadians and supporting Canadian interests."
READ MORE: 'Betrayal!' Kudlow claims Trudeau 'stabbed US in the back' with G7 comments
The Canadian prime minister has been under attack from various members of the Trump administration since his remarks at the G7. Trump's chief economic adviser Larry Kudlow accused Trudeau of 'stabbing the US in the back' and said Trump's Canadian counterpart had attempted to undermine the president on the eve of an important summit with North Korea.
"He is not going to permit any show of weakness on the trip to negotiate with North Korea," Kudlow told CNN. "Kim must not see American weakness."
Kudlow's comments were quickly followed by Director of the White House National Trade Council Peter Navarr, who said there is a "special place in hell" reserved for anyone who double-crosses Trump.
"There's a special place in hell for any foreign leader that engages in bad faith diplomacy with President Donald J. Trump and then tries to stab him in the back on the way out the door," Navarro told Fox News. Later, he echoed Trump's baiting of Trudeau, repeating the line that the Canadian statesman is "weak" and "dishonest."
Navarro later apologized for the comments, telling a news conference in Washington on Tuesday: "My job is to send a signal of strength. The problem was that in conveying that message I used language that was inappropriate. I own that, that was my mistake, those were my words."
Think your friends would be interested? Share this story!
You can share this story on social media: