Was Trudeau wearing fake eyebrows at the G7 summit? (POLL)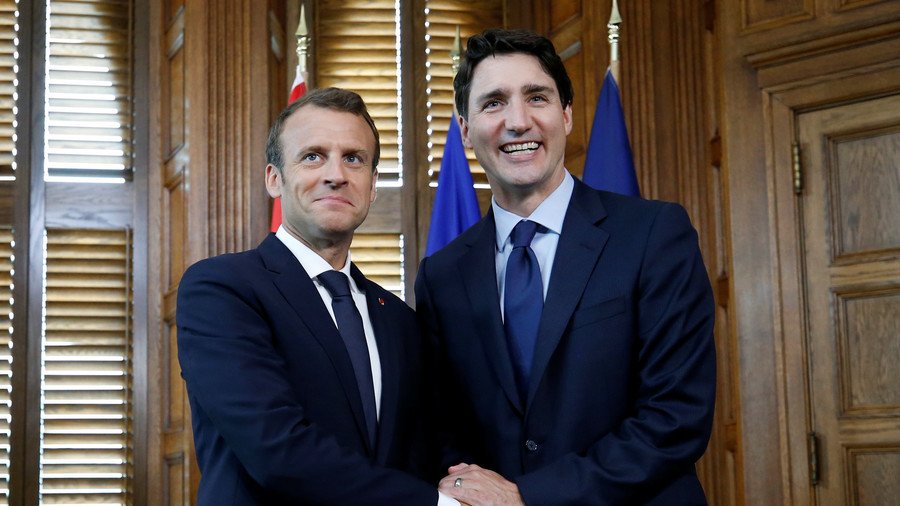 Twitter has gone into meltdown over whether Justin Trudeau was wearing fake eyebrows during a joint press conference with French President Emmanuel Macron during the G7 summit.
As Justin Trudeau fielded questions from reporters during a press conference with French President Emmanuel Macron on Thursday, the attentions of those watching live drifted to a seemingly drooping left eyebrow.
Footage of the press conference posted online shows the bilingual prime minister answering questions varying in subject from Trump to trade before the tell-tale brow appears to come unglued.
READ MORE: Trudeau actually corrects woman to say 'peoplekind' instead of 'mankind' (VIDEO)
The incident has led to accusations that Trudeau is buffing up his eyebrows with a couple of stick-on substitutes. While it's unclear whether the eyebrow is actually falling or if it's a trick of the light, the internet has responded with expected amounts of mirth and memes to mercilessly mock the Canadian politician.
Some even think it's possible that Trudeau's unglued brow could be the first real faux pas in a public life perfectly manicured with eye-catching socks and jogging photobombs.
READ MORE: Trudeau or not Trudeau: Can you pick out Canadian leader's socks? (QUIZ)
Enough of me unfairly making fun of Justin Trudeau's falling eyebrow. There is far more to our PM than just silly vanity. pic.twitter.com/yjRC0yYKrQ

— Maddie Di Muccio (@MaddieDiMuccio) June 10, 2018
Have your say – is Trudeau wearing fake eyebrows or is it a very, very unfortunate optical illusion?
You can share this story on social media: