Lost Opportunity?: NASA rover threatened by intense Martian dust storm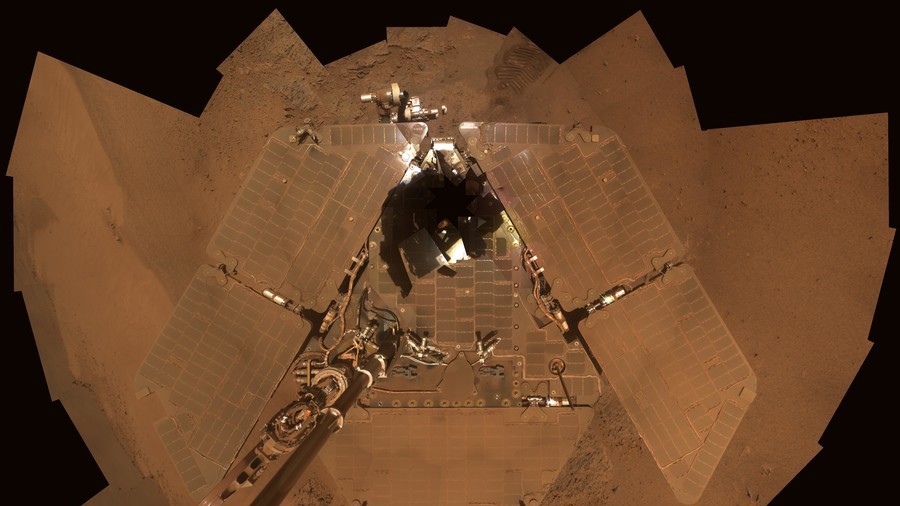 Fears for NASA's Opportunity rover are growing after engineers lost contact with Mars' oldest mechanical explorer during a raging dust storm.
NASA confirmed that Opportunity's subsystems had been knocked off as the Martian storm, which is enveloping the Red Planet and blocking out the sun, continues to intensify. Solar power is essential for the rover to operate.
READ MORE: Life on Mars? NASA discovers best evidence yet of potential life on Red Planet
While the rover has proved more resilient than expected by lasting nearly 15 years despite being only designed for a 90-day mission, the end could now be nigh for the durable device.
As it stands, the rover's mission clock which is programmed to wake the computer so it can check power levels, is the only function still operational.
The Martian dust storm blotting out the sun above Opportunity has continued to intensify. It blankets a quarter of the planet. All rover subsystems are off, except a mission clock, programmed to wake the computer to check power levels. Full status report: https://t.co/VwuuPwEpPApic.twitter.com/rQvHDsxuQj

— Spirit and Oppy (@MarsRovers) June 13, 2018
Mission engineers are doubtful that the rover has enough sunlight to charge back up for at least the next several days. NASA says if the spacecraft's computer determines that its batteries don't have enough charge, it will again put itself back to sleep.
The massive dust storm, first detected on May 30, now blankets a quarter of the planet – some 14 million square miles (35 million sq km) of Martian surface.
This is not Opportunity's first time to hunker down during a dust storm, however. In 2007 a huge storm covered the planet, leading to two weeks of minimal operations, including several days with no contact from the rover in an effort to conserve its power. Ultimately, the storm subsided and Opportunity prevailed.
READ MORE: It's alive! Amateur astronomer finds long-lost NASA satellite
Another glimmer of hope comes from the reawakening of a long lost NASA spacecraft earlier this year. In February scientists were stunned to detected a new signal from the satellite 'IMAGE' some 13 years after the spacecraft was declared lost.
If you like this story, share it with a friend!
You can share this story on social media: