Secret missile-launch or lens flare? Bizarre streak over naval station triggers conspiracy theories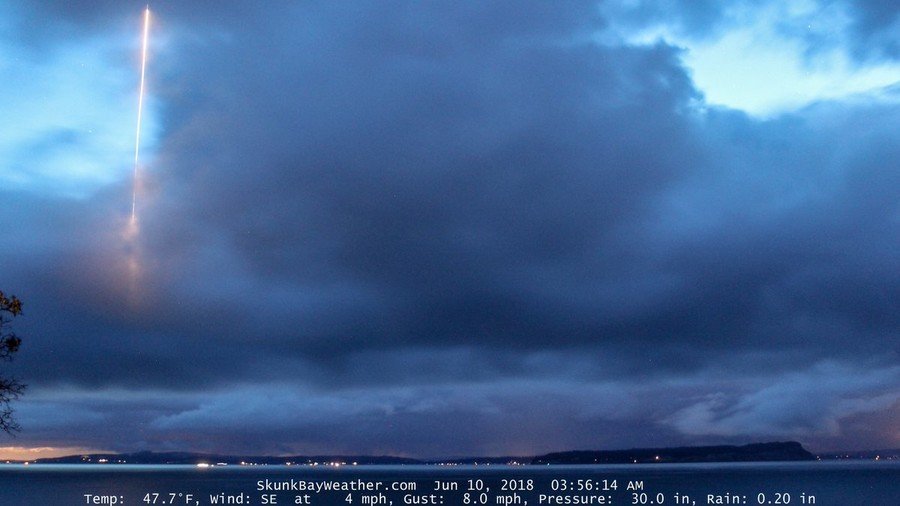 A missile launch? Or just a meteor flash? A mysterious object has been spotted over an air base in Washington state. The puzzle has led to a of speculation and questions, but so far there have been no solid answers.
On Sunday morning, at 3:56am Greg Johnson of Skunk Bay Weather managed to capture a mysterious vertical light streak on the northern Kitsap Peninsula. His 20-second exposure picture shows an orange-colored line with a luminous tail piercing through the clouds, appearing to be a launched missile.
Puzzled by what he witnessed, Johnson asked the public for help. The story quickly caught the attention not only of online users but also of local TV stations, who contacted Naval Air Station Whidbey Island and even the Pentagon to get their take on the sighting.
"They all said it didn't come from them…. They said they don't have the facility to launch large missiles," Johnson wrote in a Facebook post.
"I ran this image by Robert Lunsford of the American Meteor Society and he said it was definitely not a meteor. It looked like a missile launch to him as well," Johnson said, before sharing the image with Cliff Mass, a professor of Atmospheric Sciences at the University of Washington, who also said it was "definitely not a meteor."
For the record... My cams pick up airplanes all the time... I can guarantee this is NOT an airplane. They fly buy much higher and have a whole different signature..... I'll grab a plane image and share it.

— Skunkbayweather (@Skunkbayweather) June 11, 2018
"It really looks like the ascent of a rocket," Mass wrote in his blog, noting that he has never seen missiles being fired from the nearby Naval Air Station, used to host combat and transport air vehicles but having no missile facilities.
The Navy seems just as puzzled as the rest of the public over what they have seen. "There's a lot of speculation around here," Tom Mills, the spokesman from the Naval base, told Fox 59. "But it's definitely not a missile launch."
To try and explain the phenomenon – which Naval Air Station said could be an ordinary lens flare – the Drive online publication even reached out to the Federal Aviation Administration (FAA) which admitted that it "had no idea what it was," and stressed that it had registered "no anomalies on radar or strange reports that morning that would explain the image."
Following reports that an air ambulance helicopter was flying in the vicinity of the northern Kitsap Peninsula at the time the shot was taken, the Drive report concluded that it likely "wasn't anything more exciting than a helicopter flying in a straight line in the wee hours of a quiet Sunday morning on the picturesque Puget Sound."
If you like this story, share it with a friend!
You can share this story on social media: