'Depressing': Merkel slams Trump's 'withdrawal in tweet' following G7 summit fallout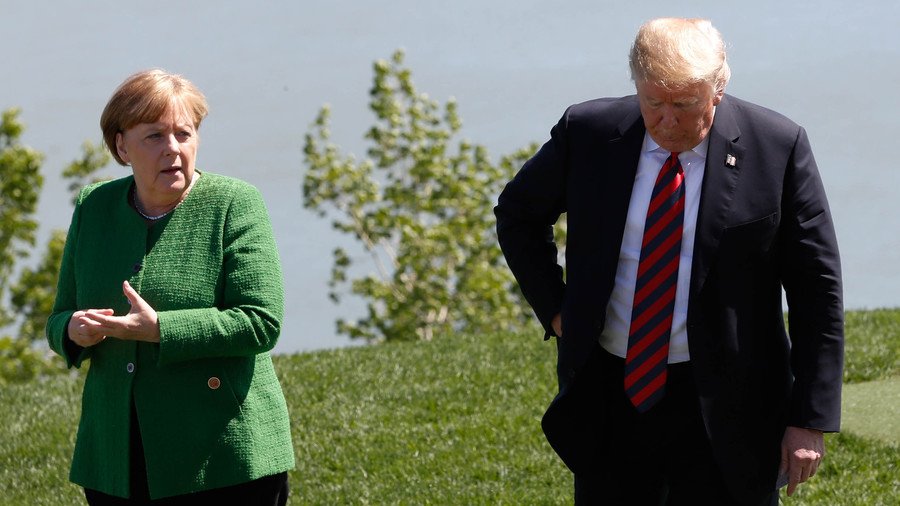 German Chancellor Angela Merkel has lambasted the US President Donald Trump's decision to renege on the G7 joint statement. She also said that Europe will not let itself be "deceived" again.
Merkel described Trump's decision to withdraw his approval of the joint communique following the G7 summit in Canada as a "sobering experience." She also praised the joint statement itself as a "laboriously negotiated" document. "The withdrawal by tweet is, of course, sobering and a bit depressing as well," she told Germany's Anne Will talk show on Sunday evening.
"I don't think that inflammatory language makes things better. Sometimes it seems that the American president thinks that only one side wins and everyone else loses," Merkel said, apparently speaking about Trump's verbal attacks against Canadian Prime Minister Justin Trudeau. She also praised Trudeau by saying that she is glad that he is "on the EU's side."
Europe will not let Trump do "whatever he pleases," the German chancellor said, adding that "we will not allow ourselves to be deceived again and again." She also doubted if the US leader still has what she called "the spirit of G7."
"We asked him about that," she told Anne Will, adding that his answers "did not sound convincing" to her. She also described her impression from Trump's behavior at the summit as "disillusionment."
At the same time, she stresses that it is too early to give up the dialogue with Washington. She said that she still believes Trump shares the principled stance of the G7 on "many issues."
"There are still good reasons to continue our fight [aimed at keeping close transatlantic partnership], even though we cannot just rely on it anymore," she added.
However, Merkel avoided giving a definitive answer to the question of whether Germany will stop seeing the US as an "important partner." Instead, she said that she would still try to achieve compromises through dialogue and "go her own way" if the dialogue brings no results.
The German chancellor also said she is not ready to "give up on G7" but would seek dialogue with Russia and try to "work very closely" with Japan, Canada, India and China. Her interview came about a day after Trump refused to endorse the G7 summit's communique that called for reducing tariff barriers.
In his tweets, Trump attacked Trudeau by calling him "dishonest and weak" and denouncing statements as "false." At a press conference following the summit, Trudeau repeated his earlier description of US trade tariffs as "insulting" and vowed retaliatory measures would come in July. In his turn, Trump announced that the US would be looking to impose tariffs on car imports.
The US and its allies have been locked in a bitter dispute of trade tariffs and perceived trade "inequality" for quite some time. In late May, Washington slapped its allies with import tariffs on steel and aluminum after it failed to win concessions from its trading partners. The move immediately provoked an angry reaction from the EU, which already presented its own list of American goods that will be taxed in retaliation to the US move.
Canada also plans to impose similar taxes on steel and aluminum imports from the US, as well as levy taxes on such goods as whiskey, orange juice and other food products in addition to that. In the run-up to the G7 summit, Trump continued to rile up his fellow world leaders with accusations of unfair trade practices, provoking angry responses from both Trudeau and French President Emmanuel Macron, who even suggested that the G7 could fare as the G6, without the US if need be.
You can share this story on social media: