'Get a picture so we look thin': Twitter roasts Trump over summit lunch gaffe (VIDEO)
Published time: 12 Jun, 2018 13:55
Edited time: 22 Jun, 2018 14:45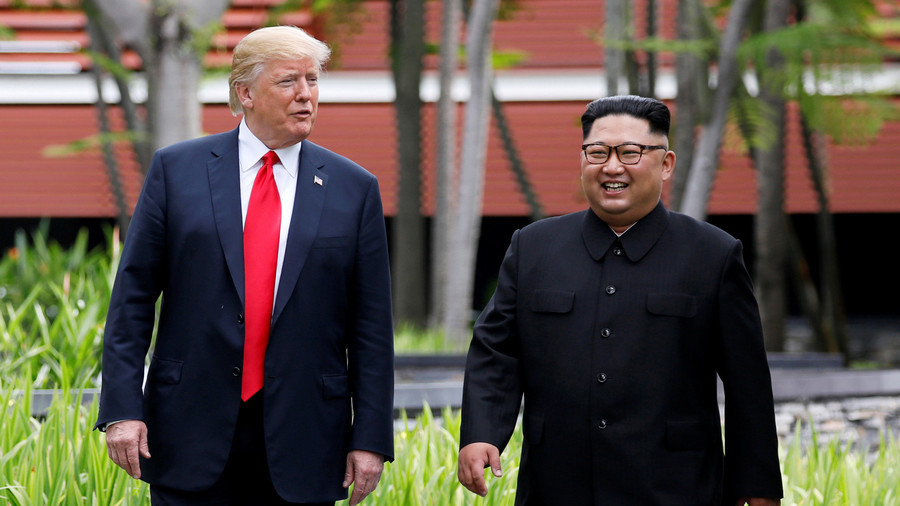 The look on his face perhaps said it all: Kim Jong-un appeared bemused, aghast and utterly galled by Donald Trump's call for photographers to make both men look "nice, handsome and thin" prior to their working lunch in Singapore.
READ MORE: Trump says Kim Jong-un accepted his invitation to the White House (VIDEO)
Footage from the event shows US president and the North Korean leader preparing to take their seats on opposite sides of a dining room table at the Capella Hotel on the resort island of Sentosa. A buoyant Trump then addresses the photographers, saying: "Getting a good picture everybody – so we all look nice, handsome and thin and perfect."
The camera then pans to the rotund Kim who seemed startled and a little embarrassed as his translator repeats Trump's comments back to him. Journalists in attendance reported that the North Korean leader appeared "stunned" by the remarks – although he reportedly smiled after sitting down.
READ MORE: North Korea sanctions to 'remain in effect' – Trump
Twitter leapt on the gaffe, ridiculing Trump for the diplomatic faux pas and pointing out that he is not exactly a svelte man himself.
READ MORE: Trump announces freeze on US military drills with South Korea after summit with Kim
This is not the first time Trump has made references to Kim's weight. In November, the president taunted the leader of the rogue state in a tweet by saying he would "never call him short and fat."
Think your friends would be interested? Share this story!