North Korea sanctions to 'remain' – Trump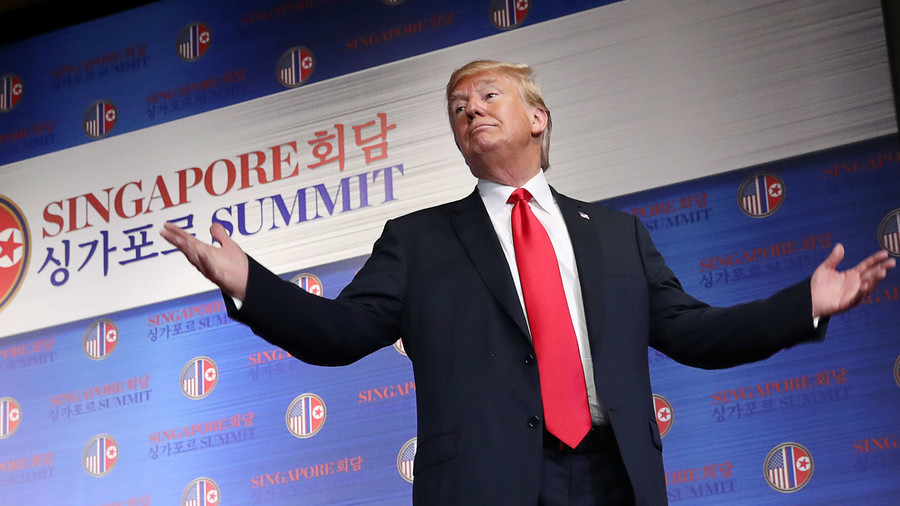 North Korean leader Kim Jong-un has expressed "unwavering commitment" to complete denuclearization, US President Trump said after their first face-to face talks. However, sanctions against Pyongyang to stay in place, he added.
During the first press conference after his historic meeting with the North Korean leader, Trump said US war games in the region would be "provocative" amid talks with Pyongyang and promised to suspend them. He also noted that the drills are quite expensive and the move will save a considerable amount of money for the US budget.
Despite Kim's pledges for denuclearization and the optimism for further talks, the easing of restrictive measures on Pyongyang will not be coming in the near future, according to Trump. The sanctions will remain in force until full denuclearization, the US president said, noting that he is "looking forward" to it.
North Korea is currently under both international and unilateral US sanctions for its nuclear and missiles tests. Pyongyang demolished its nuclear testing site in May, having invited a group of foreign journalists to witness it. Now the North is to destroy a massive missile engines testing site, according to Trump.
Earlier, the two leaders signed a "historic" document that would lead to "major change," they announced at a joint news conference after their first face-to-face meeting in Singapore.
However, Trump and Kim may need one more meeting to discuss existing problems, according to the US president. He has already invited the North's leader to visit the White House and Kim Jong-un has agreed to come.
The final deal over the North Korean problem is yet to be signed, and the US wants South Korea and China to be part of it. South Korean President Moon Jae-in held a ground-breaking meeting with Kim at the end of April, when they agreed to stop all hostile acts and pledged to achieve "a nuclear-free Korean peninsula through complete denuclearization," without specifying how it will be done.
READ MORE: Trump announces freeze on US military drills with South Korea after summit with Kim
Beijing was also in constant contact with Pyongyang prior to the Kim-Trump summit. The North Korean leader travelled to China to meet President Xi Jinping twice – before and after he met Moon. During the last meeting with Xi, Kim said that there would be "no need" for North Korea to be a nuclear state as soon as "relevant parties abolish their hostile policies and remove security threats."
Think your friends would be interested? Share this story!
You can share this story on social media: