Robert De Niro launches lazy F-bomb at Trump on live TV, crowd goes way too wild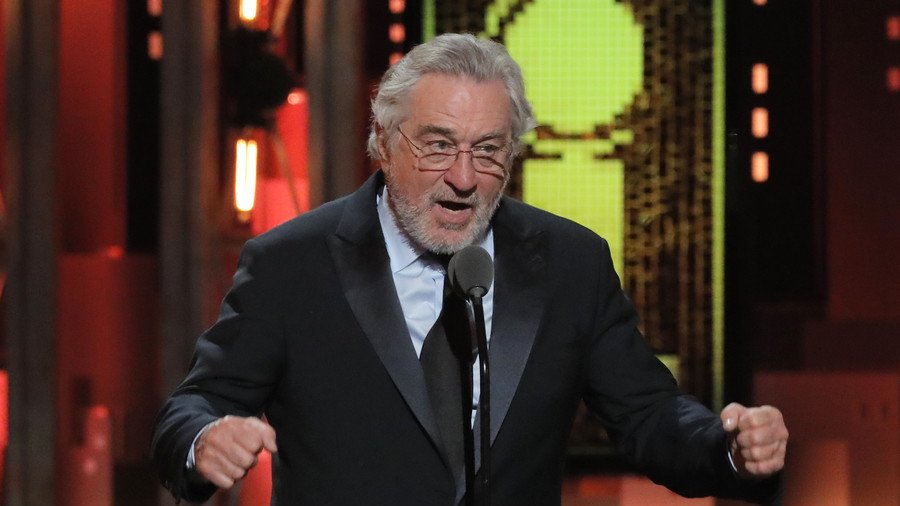 Actor Robert De Niro used the opportunity of the Tony Award ceremony to fling insults at the US president. Two expletives earned him a standing ovation and a shower of admiration from the liberal crowd.
De Niro, a respected Oscar-winning actor, opened his introduction of rocker Bruce Springsteen with a brief quip: "I'm gonna to say one thing. F*ck Trump. It's no longer 'down with Trump,' it's f*ck Trump." He then immediately switched to the matters at hand and went on with introducing Springsteen. Most of that was bleeped out by CBS, who broadcast the ceremony to a 6-million-strong American audience.
READ MORE: 'A tragic, dumbass comedy': Robert De Niro's verdict on life in the US
The brief, almost token, insult provoked a disproportionately strong reaction from the audience at New York's Radio City Music Hall. The crowd sprang to their feet in a standing ovation and a wave of cheers.
De Niro is a well-known opponent of Trump and has launched verbal attacks against him on multiple occasions. The Tony Awards crowd proved a perfectly suitable liberal environment for a fresh statement, featuring for example, the outspoken anti-Trump survivors of the Marjory Stoneman Douglas High School shooting in Parkland, Florida.
Online, left-wing sentiment echoed the admiration, De Niro's off-hand comment earned him the titles of 'genius' and 'national treasure.' Others assumed the glittering Broadway crowd was the perfect representation of the entire American population.
Trump's supporters, on the other hand, were predictably annoyed.
And the more level-headed commenters pointed out the ultimate hollowness of De Niro's habitual statement.
You can share this story on social media: