New Tesla Roadster could have rocket engines option – Musk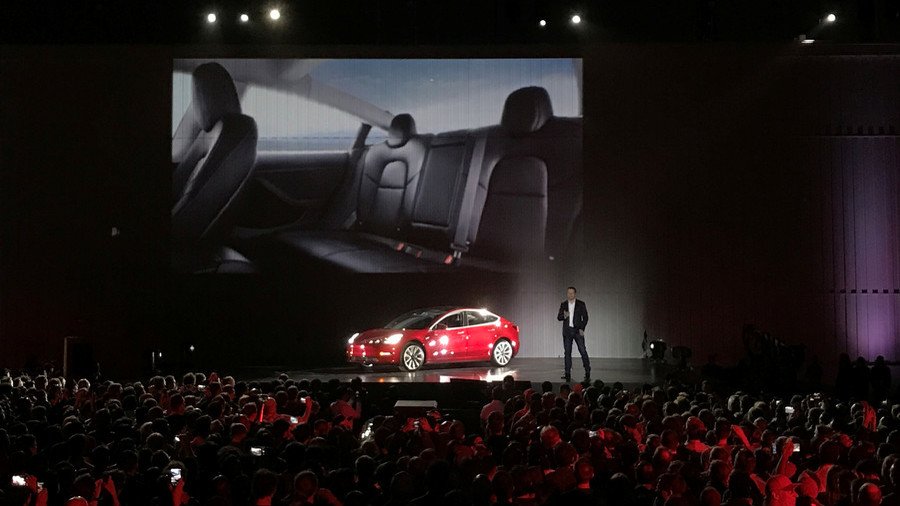 Elon Musk, the eccentric billionaire owner of SpaceX and Tesla, can't seem to resist the urge to slap rocket engines on things. He has now hinted at attaching them to the new car he's building, and nobody can tell if it's a joke.
In a tweet, Musk has described a "SpaceX option" for the new Tesla Roadster. It will supposedly include a bunch of rocket thrusters arranged around the car, for better maneuverability. And, possibly... flight?
SpaceX option package for new Tesla Roadster will include ~10 small rocket thrusters arranged seamlessly around car. These rocket engines dramatically improve acceleration, top speed, braking & cornering. Maybe they will even allow a Tesla to fly …

— Elon Musk (@elonmusk) June 9, 2018
Further in the thread, he went on reminiscing about the humble beginnings of his spectacular career, perhaps to convey the message that everything is possible. While some commenters were understandably incredulous, others posted Batmobile gifs, while others dismissed it as a prank, some even engaged Musk in an enthusiastic discussion of the technical details.
I reckon it's adapted cold gas thrusters used in upper stage rocket guidance, using plain old compressed air.

— David Jenkins (@djenkins6) June 9, 2018
While one cannot deny Musk's ability to get things done – see SpaceX and its long path of trial and error – one must also acknowledge his eccentric side: he once suggested dropping nukes on Mars to warm it up for terraforming, building a rollercoaster to move around one of his offices, and he believes artificial intelligence will be the ultimate undoing of humanity. He is also having a rough time maintaining shareholder trust in Tesla, his electric car enterprise.
One of the shareholders recently filed a lawsuit against Musk for the enormous $2.6-billion compensation package he will be entitled to if he meets a number of strict performance goals over the next few years. Meanwhile, Tesla has not managed to produce even a quarter of the planned 400,000 Model 3 vehicles, and it has only had two profitable quarters in its 14-year history, with losses growing to $2 billion last year.
Musk recently survived an attempt to strip him of his position as the chairman of Tesla when shareholders ultimately voted to let him keep it, as well as the post of CEO. He has promised he will resolve Tesla's production problems.
Like this story? Share it with a friend!
You can share this story on social media: