Details unknown: Top generals from US & Russia have 'constructive' talks in Finland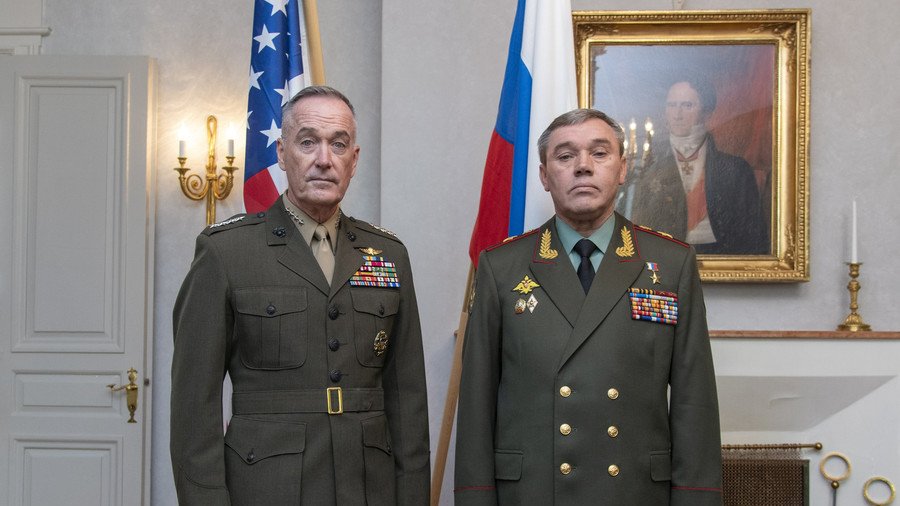 Chairman of the Joint Chiefs of Staff Joseph Dunford and his Russian counterpart, Valery Gerasimov, had a "constructive" meeting in Finland, where they discussed the situation in Syria and European security.
Marine General Dunford and Army General Gerasimov met at the Konigstedt Manor in Helsinki on Friday after meeting senior Finnish officials.
"It is really good that the United States and Russia have a dialogue in a tense international environment," Finnish Foreign Minister Timo Soini told Finnish broadcaster YLE.
The two generals discussed various ways of resolving the crisis in Syria, including the avoidance of incidents between the US and Russian forces operating in that country, according to the Russian Ministry of Defense. They also touched upon the topic of lowering tensions and ensuring security in Europe.
"The US and Russian militaries have undertaken efforts to improve operational safety and strategic stability," said Colonel Patrick S. Ryder, spokesman for the Joint Chiefs. "Both leaders recognize the importance of maintaining regular communication to avoid miscalculation and to promote transparency and deconfliction in areas where our militaries are operating in close proximity."
Ryder added that both generals have agreed to keep the details of their talks private, "in accordance with past practice."
Deconfliction is the Pentagon euphemism for arrangements made in Syria to avoid a clash between the US-led coalition on one side and the Russian military and its Syrian government allies on the other.
In addition to meeting with his American counterpart, Gerasimov met with Finnish President Sauli Niinistö and Finland's Chief of Defense Jarmo Lindberg, the Russian Defense Ministry confirmed.
Gerasimov and Lindberg discussed the importance of the telephone hotline established last November to increase transparency amid the increased military activity in the Baltic Sea.
In January, the Pentagon released a dramatic video of US fighters confronting Russian jets over the Baltics. The Russian Ministry of Defense said there was nothing out of the ordinary about the flights, which were in full compliance with international protocols and took place in international airspace.
NATO is currently conducting military drills of ground forces in Estonia, Latvia, Lithuania and Poland. The exercise, Saber Strike 2018, involves 18,000 troops from 19 countries - including Israel for the first time - though one of the US units involved has already experienced a bit of trouble driving.
Like this story? Share it with a friend!
You can share this story on social media: