13 injured as 4 US armored vehicles collide on Lithuania road (PHOTOS)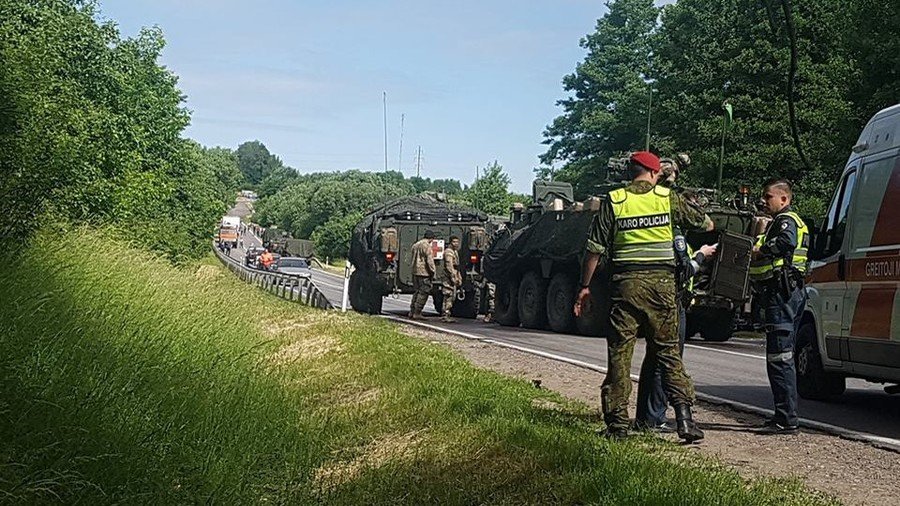 Over a dozen troopers from the 2nd US Cavalry Regiment were injured when their Stryker armored vehicles smashed into each other on a country road in Lithuania, near the border with Russia's Kaliningrad region.
The 2nd Squadron vehicles were traveling down Highway 130, a two-lane blacktop near Prienai, when one of them veered off the road for reasons still unknown. The three follow-on vehicles piled up, injuring their occupants.
"Thirteen U.S. Army Soldiers were transported to local hospitals by host nation ground ambulances for evaluation of injuries," Colonel Kathleen Turner told Army Times.

A big round of applause to the drivers of the four Strykers in Lithuania that managed to hit one another during a highway movement, resulting in the light injuring of 13 soldiers. pic.twitter.com/bdJhPg7uQF

— usawtfm6 (@usawtfm6) June 7, 2018
There were no reported injuries to civilians, or damage to civilian vehicles, according to local authorities.
"It is likely that there was an unexpected obstacle on the road that triggered the braking, and then all of them went off," Captain Gintautas Ciunis of the Lithuanian Armed Forces told local media. The incident is still under investigation.
The 2nd Cavalry has traveled to Lithuania from its home base in Vilseck, Germany, to take part in Saber Strike 2018, the annual NATO exercise intended as a show of force along the Russian border.
Approximately 18,000 troops from 19 countries are taking part in the drills, which began on Wednesday in Estonia, Lithuania, Latvia, and Poland. Among them are around 3,000 US soldiers.
As part of the drills, the 2nd Cavalry is due to demonstrate a tactical crossing of the River Niemen (Nemunas), on June 13 at Kulautuva, a town northwest of Kaunas.
The Prienai incident is not the first time US troops deployed to Eastern Europe have found the local roads challenging. In December, a US Army recovery vehicle slid off a road in western Poland and found itself stuck in the mud. Another recovery vehicle was almost stranded itself during the rescue.
Like this story? Share it with a friend!
You can share this story on social media: