'It's not a PR meeting': US-Russia military summit could ease tensions over Syria, NATO drills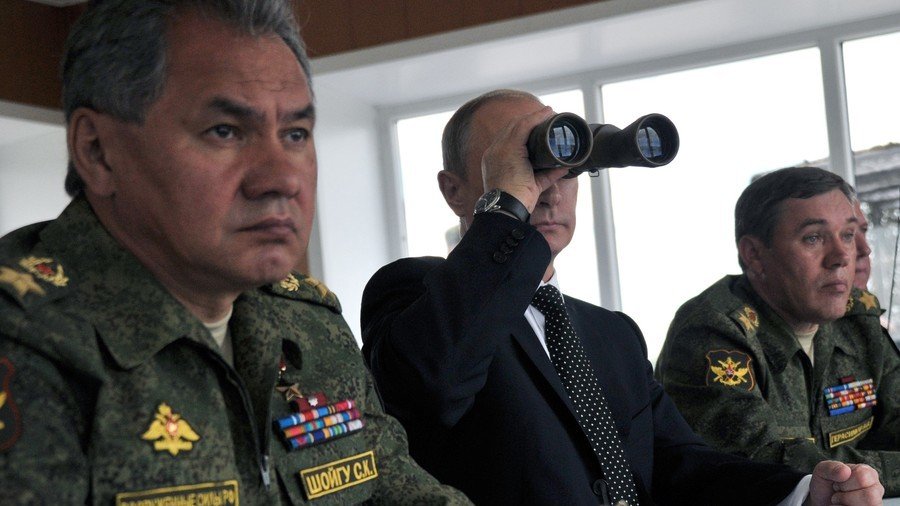 A scheduled meeting between top US and Russian military brass in Helsinki will allow both sides to clarify their positions on Syria and NATO drills on Russia's borders, and avoid dangerous misunderstandings, an expert told RT.
General Joseph Dunford, chairman of the Joint Chiefs of Staff, and Russia's chief of the military's General Staff, General Valery Gerasimov, will meet in Finland's capital on Friday on "the initiative of both countries," according to the Finnish military. Although Finland will not participate in the talks, the two military chiefs are slated to meet separately with Finland's president and military head.
Details surrounding the meeting – including what's on the agenda – are scant, but this reflects the strictly business tenor.
"It's not a PR meeting," Aleksey Leonkov, a Russian military expert, told RT. And while the public can only speculate on planned topics of discussion, "the main goal of this meeting is to diffuse tensions and clear up a lack of understanding between sides," Leonkov said.
But on some issues, ironing out misunderstandings has proven to be a decade-long process. NATO activity on Russia's border – and Poland's recent offer to pay to host a US military base – will likely be at the top of Russia's list of pressing security concerns.
"NATO and the US from time to time say that they allegedly have nothing against Russia, but NATO's advance still continues," Leonkov told RT. "NATO's forces are active on our borders; I mean all of these countless drills, and also Poland's statement on housing new bases, Patriot missiles."
The situation in Syria will undoubtedly be an urgent topic of discussion. Thanks in large part to a military communication channel kept open by both militaries, the US and Russia have been able to avoid direct conflict – unintentional or otherwise – in the Middle East country. The Helsinki meeting could help strengthen coordination and communication in Syria that has so far helped to avoid a major escalation between the two nuclear powers. Of course, Moscow may also bring up the fact that Russia's military is operating at the invitation of Damascus, while US forces are in the country illegally – even as their stated mission against Islamic State (IS, formerly ISIS) winds down.
"There is still an armed US contingent there, which no one invited – military specialists, special forces and others from the intelligence community," Leonkov said.
Concerning Afghanistan and North Korea, the US is faced with issues that can only be solved with Russian assistance, Leonkov told RT. In both cases, Moscow has proven to be an effective mediator, facilitating peace talks with the Taliban and pushing for de-escalation on the Korean Peninsula.
Aside from the obvious conversation starters, there are several other topics that could be addressed during the meeting, he said.
"We also have the Treaty on Open Skies. The US has voiced its problems with it. They are trying to convince the world that we are violating it. We have different intelligence," Leonkov said. "And the Treaty on Open Skies is the only mechanism that exists now that shows that the two sides aren't getting ready for a military conflict. Despite this the US is trying through NATO to torpedo this agreement."
While such meetings are not unheard of, they have become less frequent since tensions between Moscow and the West began to spike. However, neither side seems interested in completely severing communication channels.
Leonkov stressed their importance, saying that military chiefs "use a different language than diplomats do."
NATO's top European commander, General Curtis Scaparrotti, met with Gerasimov in Baku in April. According to brief statements released by the two sides, the military chiefs discussed ways to boost transparency and reduce tension between their militaries, amid an increased number of military exercises being conducted by NATO in Europe. The April meeting was the first such encounter since relations between Moscow and NATO tanked following the 2014 Ukraine Crisis.
Think your friends would be interested? Share this story!
You can share this story on social media: