Where's Russia collusion? Mueller adds obstruction to Manafort indictment, charges Kiev businessman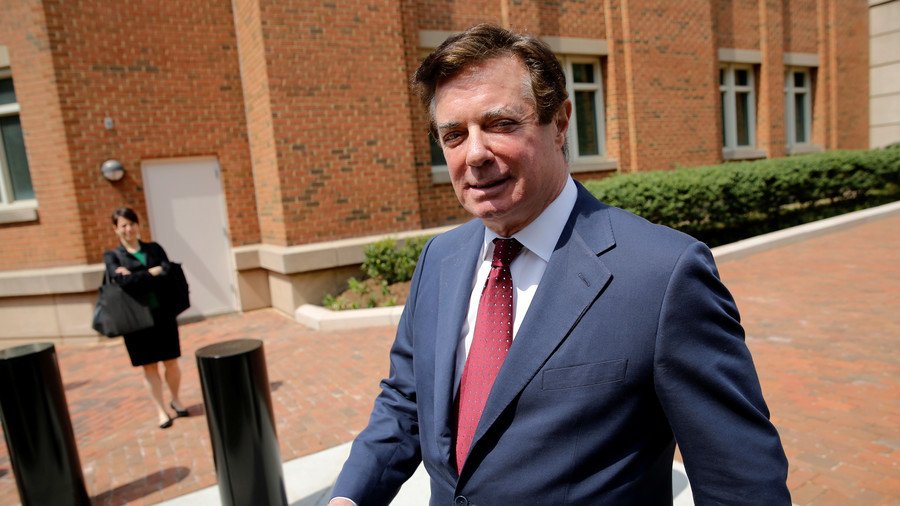 Special Counsel Robert Mueller has charged former Trump campaign manager Paul Manafort and his Kiev colleague with obstruction of justice, but nothing related to the 2016 election. The probe itself is under scrutiny for its costs.
Mueller cooked a big Friday nothingburger for the mainstream media in the form of a third amended indictment filed before the US District Court in Washington, DC. It names Konstantin Kilimnik, a Kiev resident with Russian and Ukrainian citizenships, as a co-conspirator of Manafort's in attempts to tamper with two potential witnesses at the upcoming trial.
"Mueller's 'witch hunt' snags another witch," proclaimed a Washington Post headline. One of the leading Russiagate voice in Congress, Rep. Adam Schiff (D-California), declared that the indictment shows Manafort "worked with a Russian with reported ties to Russian intelligence" to subvert US laws. Yet the indictment itself doesn't show any connections to Russia - or the 2016 election.
Today's superseding indictment alleging Konstantin Kilimnik worked with Paul Manafort to obstruct justice not only deepens Manafort's legal peril, it shows that Trump's former campaign chair worked with a Russian with reported ties to Russian intelligence to subvert U.S. law.

— Adam Schiff (@RepAdamSchiff) June 8, 2018
Kilimkin was previously identified only as "Person A," in the March sentencing memo for Manafort's business partner Rick Gates. The memo says the FBI agents assisting Mueller "assess that Person A has ties to a Russian intelligence service and had such ties in 2016."
The claims are based on Kilimkin's studies at a Soviet foreign language institute in the 1980s. However, Kilimkin denied any connections to intelligence agencies in a 2017 interview with the US government outlet Radio Free Europe/Radio Liberty. He also revealed that before getting involved with Manafort and Gates in 2005, he worked for the International Republican Institute, a US-funded "democracy promotion" outfit led by Senator John McCain (R-Arizona).
The House of Representatives adopted an amendment on Friday requiring a semi-annual audit of special counsel spending by the Government Accountability Office (GAO). Mueller's probe has spent almost $17 million in just under a year to chase down allegations of Trump's collusion with Russia in the 2016 US presidential election, and has found none so far.
Manafort managed President Donald Trump's election campaign between June and August of 2016. None of the charges in this indictment, or any previous ones, have anything to do with his campaign work, however. Instead, Mueller is going after the long-time lobbyist for allegedly not reporting his work for the Ukrainian government, as required under the US Foreign Agents Registration Act (FARA), laundering the profits through offshore companies and bank accounts, and failing to pay US taxes.
This has not escaped the attention of Judge T.S. Ellis, who is presiding over Mueller's case against Manafort in a federal court in Alexandria, Virginia.
"I don't see what relation this indictment has with what the special counsel is authorized to investigate," Ellis told Mueller's aide Michael Dreeben at a court session in early May. "You don't really care about Mr. Manafort's bank fraud. ... What you really care about is what information Mr. Manafort could give you that would reflect on Mr. Trump or lead to his prosecution or impeachment."
Pressed to explain how charges of bank fraud going back a decade fell under the scope of a 2016 election probe, Dreeben claimed the memo outlining the scope of Mueller's probe was classified.
"C'mon, man!" Ellis replied, telling Drebeen that he has the required security clearance and demanding to see the full memorandum.
Ellis later postponed the start of the trial, citing "a family member's medical procedure." Originally set for July 10, the trial will begin on July 24.
Over in the District of Columbia, Judge Amy Berman Jackson will hold a hearing in Manafort's case on June 15, when she will rule on the prosecutors' motion to revoke Manafort's bail, and jail him until the start of the trial.
If you like this story, share it with a friend!
You can share this story on social media: