'C'mon man!' Judge accuses Mueller investigation of overreach with Manafort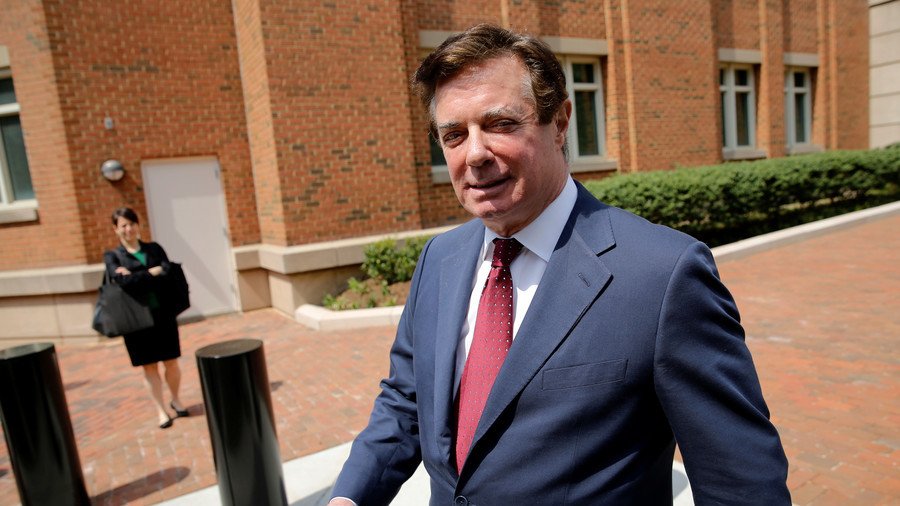 A federal judge in Virginia has questioned Special Counsel Robert Mueller's case against Trump's election campaign manager Paul Manafort, saying the indictments have nothing to do with the Mueller investigation's official purpose.
US District Judge T.S. Ellis suggested that Mueller was pressing Manafort on unrelated charges in the hopes that he would provide incriminating information against President Donald Trump.
"I don't see what relation this indictment has with what the special counsel is authorized to investigate," Ellis said in court on Friday. "You don't really care about Mr. Manafort's bank fraud. ... What you really care about is what information Mr. Manafort could give you that would reflect on Mr. Trump or lead to his prosecution or impeachment."
Mueller's investigation is tasked with looking into alleged collusion between the Trump campaign and Russia in the runup to the 2016 election. Manafort worked for the Trump campaign between March and August that year. He was indicted in Virginia on tax and bank fraud charges dating back to 2005 and 2007, and in Washington, DC, on charges of failing to properly register his lobbying work for the Ukrainian government between 2006 and 2015.
"The vernacular is to 'sing'," Ellis said. "What you got to be careful of is, they may not only sing, they may compose."
One of Mueller's prosecutors, Michael Dreeben, argued that the bank fraud indictments fell under the scope of the Russia probe.
"Bank fraud in 2005 and 2007? Tell me how!" the judge shot back.
Dreeben told the judge that the probe was authorized last August by Deputy Attorney General Rod Rosenstein in a highly redacted memo. The redactions, Dreben argued, were made for national security reasons.
Ellis accused Mueller's team of "not really telling the truth" about their probe into Manafort. "C'mon, man!" said Ellis, when Dreeben didn't respond.
The judge recommended that investigations into Manafort's alleged bank fraud should be turned over to the US Attorney's district office in Virginia. He also warned Dreeben that Mueller's investigation should not overstep its boundaries.
"What we don't want in this country, we don't want anyone with unfettered power," he said. "It's unlikely you're going to persuade me the special counsel has unlimited powers to do anything her or she wants."
The judge's stern words pleased President Trump, who was in Dallas, Texas, to address the National Rifle Association (NRA) annual convention. He quoted parts of a Wall Street Journal article about the courtroom confrontation, to cheers from the crowd.
"All we hear is this phony Russian witch hunt," he said. "Let me tell you folks… I love fighting these battles."
Friday's hearing is the third time Manafort's lawyers have tried to have the charges leveled against him dismissed. In the most recent filing, they argued that the Mueller investigation has provided no evidence of contact or communications between Manafort and any Russian officials, and therefore has "no lawful authority or jurisdiction to investigate or prosecute" Manafort.
Meanwhile, Manafort's lawyers said, multiple leaks to the press about alleged contact with Russians were false, came from anonymous government sources, and were used to drum up support for Mueller's Russia probe.
"Of course, the natural implication of this is that these government leaks were intentionally designed to create a false narrative in order to garner support for the appointment of a special counsel," the filing argues.
Over a year after its launch, Special Counsel Mueller's investigation has yet to find any evidence of collusion between the Trump campaign and Russia. President Trump has described the investigation as politically motivated, and "the single greatest Witch Hunt in American history."
Judge Ellis did not dismiss the charges against Manafort on Friday, but directed Mueller's office to come back with evidence against him, and sealed and unredacted versions of the memo authorizing the probe into Manafort. A trial is set for July 10.
Manafort's lawyers are also seeking to get the the Washington indictments dropped, on similar grounds. The federal judge in Washington, Amy Berman Jackson, has not yet decided whether to drop the charges.
Like this story? Share it with a friend!
You can share this story on social media: