Assange in grave danger, hated because Clintons control media – Pamela Anderson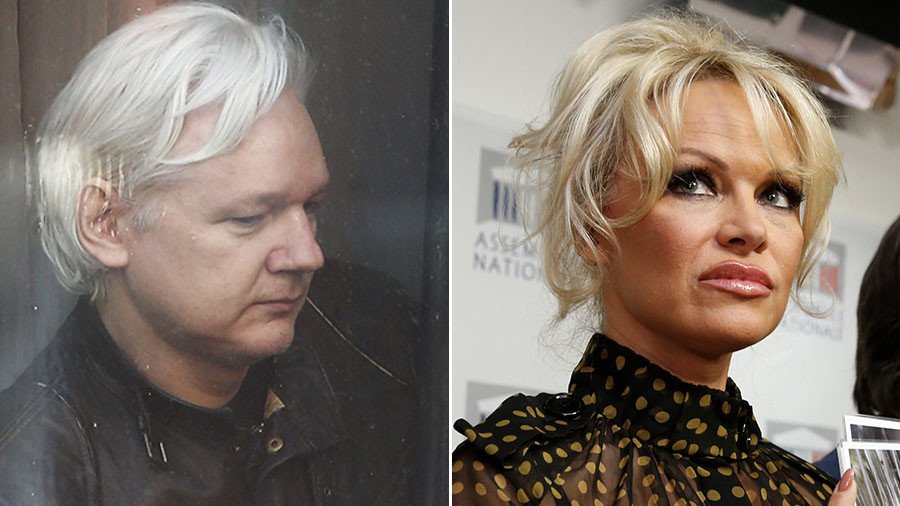 WikiLeaks editor Julian Assange is in grave danger, isolated inside the Ecuadorian embassy in London, according to his friend Pamela Anderson. The actress blamed a pro-Clinton media of making Assange 'hated' in Hollywood.
Anderson is a close friend of Assange, but was turned away from the embassy when she tried to visit him last month. Ecuador cited Assange's tweet about Catalan separatists as a pretext to jam his phone and internet access and stop him from receiving any visitors.
The last time Anderson talked to Assange was March 27, the day his access to the outside world was shut off.
"He's cut off from everybody," the Baywatch star told the Hollywood Reporter (THR) in an interview published Wednesday. "The air and light quality [at the embassy] is terrible because he can't keep his windows open and he can't get any sunlight. Even prisoners can go outside, but he can't."
The US intelligence community accused WikiLeaks of being a "Russian cutout" after the outlet published internal Democratic National Committee emails, as well as emails from the private account of Hillary Clinton's campaign chair John Podesta, during the 2016 US presidential election.
Assange actually sought sanctuary inside the Ecuadorian embassy back in 2012, fearing he would be extradited to the US on espionage charges because WikiLeaks had published thousands of US government documents related to the Iraq and Afghanistan wars in 2010.
"He's been wrongly accused of so many things," Anderson told THR. "He's so misunderstood… especially in Hollywood, and really hated, because of the Clinton monopoly on the media."
"I always try to humanize him because people think he's a robot or he's a computer screen or he's not this human being," Anderson said.
This is not the first time the actress has raised an alarm over Assange's isolation. Appearing on ITV's 'Good Morning Britain' last month, Anderson expressed fear he could die inside the embassy.
The actress believes WikiLeaks provides a valuable public service, and that accusations against Assange are bogus, according to THR.
"There are people in the world that don't question authority," she said. "They just think, 'Oh, somebody smarter than me has figured it out, and I'm gonna go on with my day and I don't have any feeling about it because I'm too busy.' I think that's dangerous."
Canadian-born Anderson became a US citizen during her star turn in the 1990s. She has since swapped the beaches of Malibu for the French Riviera, living in Marseilles with her soccer star boyfriend Adil Rami.
Think your friends would be interested? Share this story!
You can share this story on social media: