Pentagon will 'compete vigorously' with Beijing in South China Sea – Mattis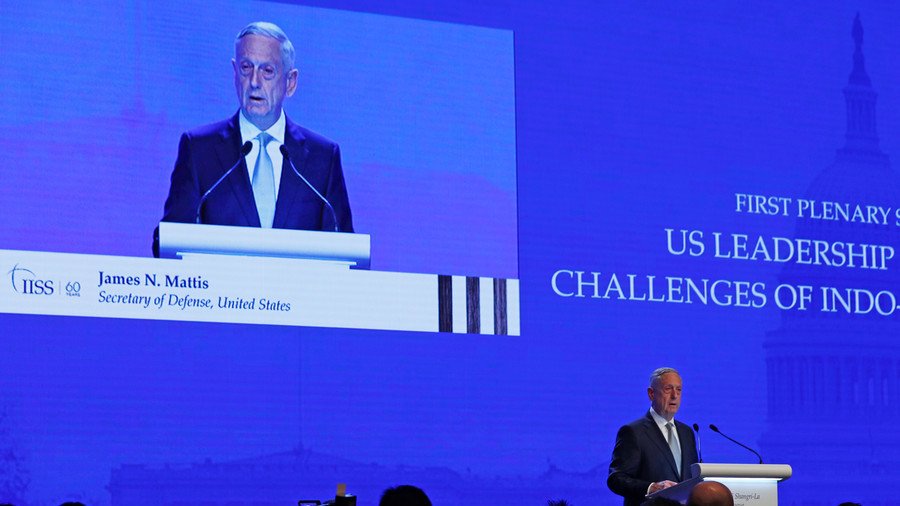 Defense Secretary Jim Mattis has claimed that since Beijing's South China Sea policy contradicts Washington's strategy of "openness," the US will have to "compete vigorously" wherever cooperation is impossible.
"The US will continue to pursue a constructive, results-oriented relationship with China, cooperating when possible and competing vigorously where we must...," Mattis stated, speaking at the annual Shangri-La Dialogue in Singapore.
"China's policy in the South China Sea stands in stark contrast to the openness our strategy promises, it calls into question China's broader goals," the US Defense Secretary added.
The US has for years agitated China by claiming a "freedom of navigation," sailing its warships and conducting flights near the disputed areas of the South China Sea. Beijing has repeatedly condemned the maneuvers, calling them a "provocation" and an infringement on China's sovereignty.
To reinforce its claims, Beijing has been building artificial islands and deploying military infrastructure on the Paracels, as well as on the Spratly Islands. In May, its strategic bombers practiced take-off and landing in the disputed area.
"Despite China's claims to the contrary, the placement of these weapon systems is tied directly to military use for the purpose of intimidation and coercion," Mattis claimed.
The South China Sea, through which an estimated $5.3 trillion worth of goods passes each year, is the subject of conflicting claims by a number of countries, some of which, like the Philippines and Singapore, have a special relationship with the US Navy. Countering China's influence in the region has been one of Washington's main foreign policy objectives. Over 64 percent of China's sea trade passed through the waterway in 2016. While Washington maintains pressure on the vital trade artery as the nations are locked in talks to deescalate the risk of a global trade war, on Friday Beijing once again reiterated that it seeks "peace and stability" in the South China Sea.
"We hope the US will play a constructive and responsible role in this regard rather than stir up troubles. The US should uphold rather than undermine regional peace and stability," Foreign Ministry Spokesperson Hua Chunying told reporters.
While US President Donald Trump has repeatedly boasted about his special 'friendship' with Chinese counterpart Xi Jinping, tensions between the nations have been building up. Major friction persists over Taiwan, after Trump signed the Taiwan Travel Act (HR 535), which deepens ties between Washington and Taipei by allowing official state visits "at all levels." China has repeatedly condemned those relations as a violation of the One-China Policy, nominally honored by Washington since 1972.
Beijing has also repeatedly reminded Washington of its "inherent" sovereignty over the group of uninhabited Senkaku/Diaoyu Islands in the East China Sea, which the US recognizes a part of Japan and has vowed to protect, under the mutual defense agreement with Tokyo.
READ MORE: US warships sail near disputed South China Sea islands
Another point of friction in Sino-US relations is the deployment of the Terminal High Altitude Area Defense (THAAD) anti-missile systems in South Korea. Beijing believes that US hardware, allegedly placed to counter the North Korean nuclear threat, undermines strategic stability and its national security. The deployment of American Aegis systems, which Tokyo has decided to acquire, could also undermine Beijing's nuclear deterrent and therefore serves as another point of contention in relations.
READ MORE: American Raj? Pentagon renames PACOM to 'Indo-Pacific Command'
In his address, Mattis reassured allies that Washington is "focused on modernising our alliance with both Republic of Korea and Japan," and will not put US national interests ahead of their security.
"America has expanded its engagement and deepened its connectivity across the region... ," Mattis said. "So, make no mistake, America is in the Indo-Pacific to stay, this is our priority theater, our interests and the region's are inextricably intertwined."
Like this story? Share it with a friend!
You can share this story on social media: