Memo to China: US has 'experience taking down small islands,' Pentagon bigwig says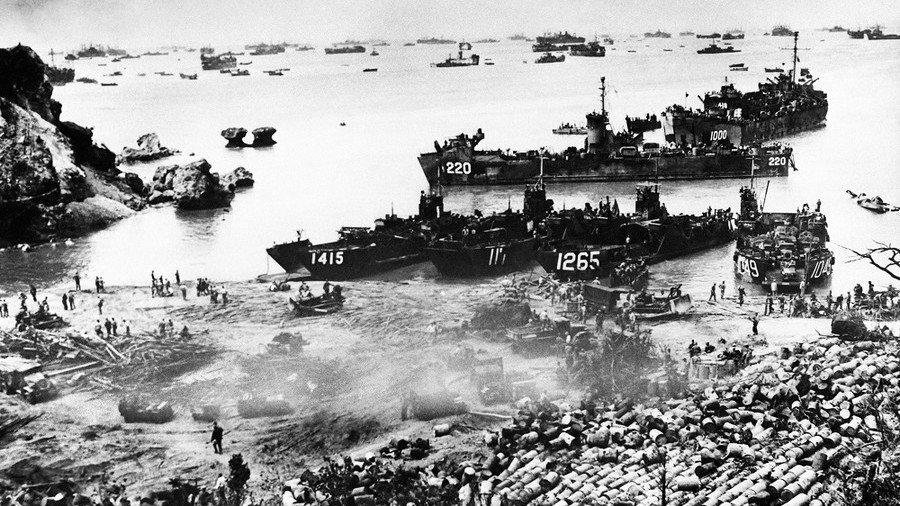 A top Pentagon official has apparently shrugged off China's militarized, man-made islands in the South China Sea, boasting that the US military "has had a lot of experience in the Western Pacific taking down small islands."
Speaking with reporters at the Pentagon on Thursday, Director of the Joint Staff Lt. Gen. Kenneth McKenzie said that Washington would continue to seek cooperation with Beijing on the Korea crisis, but would not shy away from protecting "both US and allied interest in the region."
"I would just tell you that the United States military has had a lot of experience in the Western Pacific taking down small islands," McKenzie said, in response to question about US military capabilities against China's man-made islands in the South China Sea. He later clarified his statement, emphasizing that he was making a "simple statement of historical fact."
"It's just a fact we had a lot of experience in the Second World War taking down small islands that are isolated, so that's a core competency of the US military that we've done before. [You] shouldn't read anything more into that than a simple statement of historical fact," McKenzie said.
Fact or not, some took issue with how appropriate – or even relevant – McKenzie's observation was.
The general's comments come less than a week after US warships sailed near the disputed Paracel Islands in the South China Sea. China's Defense Ministry condemned the maneuver as a "provocation" and an infringement upon China's sovereignty.
He needs to go back and reread our official histories. Those attritional landing battles suuuuuuuuuuuucked for us, even with the islands cut off from supply and pounded with naval gunfire. Any battle with anywhere near that level of US casualties would get everyone fired today.

— Dark Laughter (@DarkLaughterTDB) May 31, 2018
Each major operation had higher casualties and casualty ratios than the one before it too. Even though the Army and Marines had better equipment, more support assets and better training

— Clovis (@clovis69) May 31, 2018
Spent a lot of blood to do it. Is that what he wants?

— nicefellow31 (@nicefellow31) May 31, 2018
Beijing has been building artificial islands and deploying military infrastructure on the Paracels, as well as on the Spratly Islands. This has resulted in protests from neighboring nations which have claims on the islands. Washington says that the area is considered international waters, and has continued to conduct "freedom of navigation" operations in defiance of Beijing's territorial claim.
Earlier, the Pentagon had revoked the Chinese navy's invitation to participate in the RIMPAC 2018 naval drills, accusing Beijing of 'militarizing' the region.
Like this story? Share it with a friend!
You can share this story on social media: