Trump 'did not like' meeting between North Korean leader & Russian foreign minister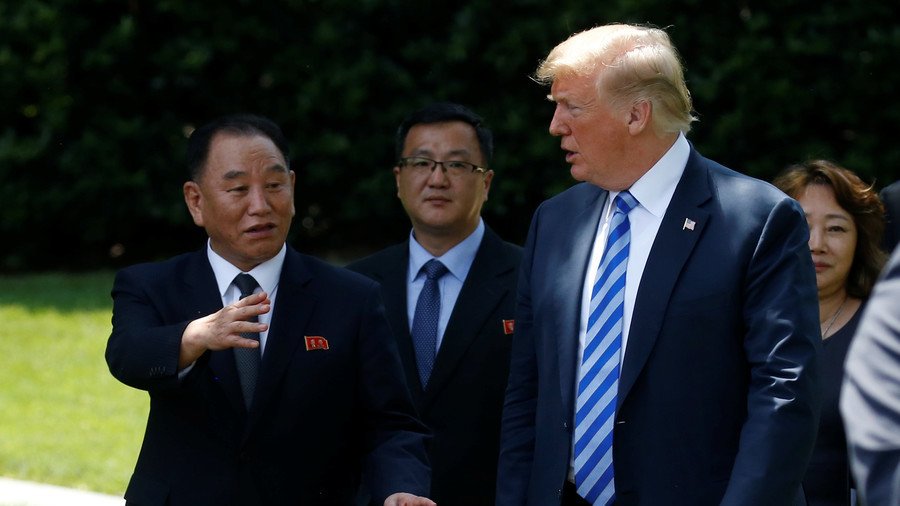 US President Donald Trump could not make up his mind about the meeting between Russian Foreign Minister Sergey Lavrov and North Korean leader Kim Jong-un, first saying he disapproved and then that it might be "very positive."
The US leader was speaking to journalists following his own meeting with a North Korean senior official in the White House on Friday.
"I did not like it," the US president told reporters, referring to the Kim-Lavrov meeting. He then immediately went on to say that "it could be very positive too."
"I did not like the Russian meeting yesterday as what's the purpose of this meeting? But it could be a positive meeting. If it is a positive meeting, I love it. If it is a negative meeting, I am not happy. And it could be very well a positive meeting," Trump said, apparently unaware of how incoherent that sounded.
During the meeting with the Russian top diplomat, Kim Jong-un once again reaffirmed Pyongyang's commitment to a complete denuclearization of the Korean Peninsula. In turn, Lavrov said that Russia is ready to support any "concrete agreements" that might result from Korean peace talks if they would take into account interests of all relevant parties, including North Korea itself. He also passed a "personal letter" from the Russian President Vladimir Putin to the North Korean leader.
On Friday, Trump himself received a letter from Kim Jong-un. He did not reveal any details concerning the content of the message, while describing it as "very nice" and "interesting."
The US president also said he might make the content of the letter public at some point in the future.
Trump has confirmed he will be meeting Kim in Singapore on June 12, a summit that was in limbo over the last weeks. After proposing the summit, Pyongyang said it may reconsider the meeting due to US military exercises and statements from US officials. Then Trump canceled it, accusing North Korea of displaying "open hostility." It appeared to be a negotiating tactic, as talks about organizing the meetup went ahead.
Moscow has consistently advocated a political and diplomatic solution to the crisis on the Korean peninsula. It has also repeatedly called for a dialog that would take into account the interests of all relevant parties, including North Korea.
In September 2017, when the situation on the peninsula escalated dramatically, Russia and China presented a "double freeze" initiative, which envisaged North Korea suspending its nuclear and missile program in exchange for the US and South Korea abandoning their military exercises in the region.
Moscow at the time also repeatedly called on Washington and Pyongyang to tone down their belligerent rhetoric. Russia has not stopped its dialogue even "for a minute," which was a "responsible" and "accurate" decision that finally worked out, top Russian senator Konstantin Kosachev said in April, commenting on Moscow's approach to the issue.
Trump himself, however, was much less consistent in his approach to North Korea. He traded insults with Kim on numerous occasions, at one point calling him 'little rocket man.' He also sharply criticized the former Secretary of State Rex Tillerson for his attempts to hammer out an agreement over the Korean crisis by saying that he was simply "wasting time."
Following a March summit between Kim and his South Korean counterpart Moon Jae-in, however, Trump suddenly changed his rhetoric and started praising the North Korean leader. In late April, he called Kim Jong-un "very honorable," adding that he wanted a meeting with him "as soon as possible."
Like this story? Share it with a friend!
You can share this story on social media: