Kim repeats commitment to Korean Peninsula denuclearization after letter from Putin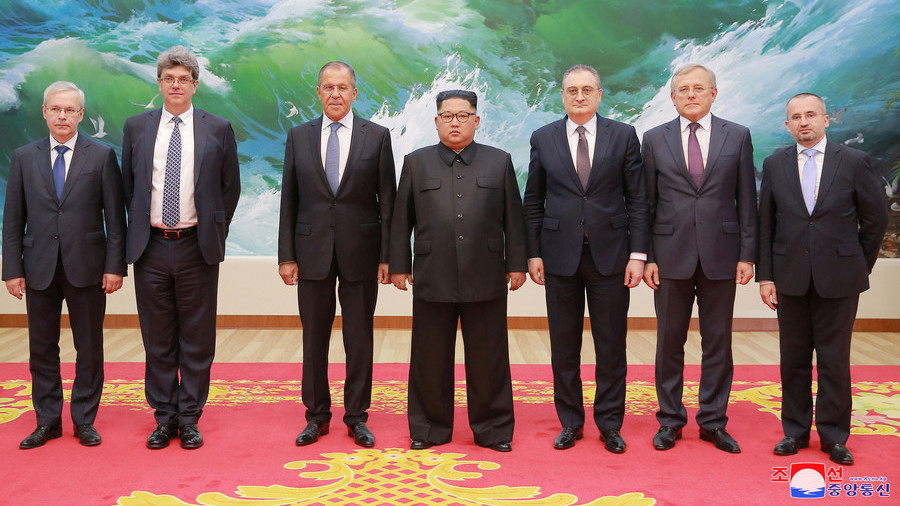 Kim Jong-un has reaffirmed his commitment to a complete denuclearization of the Korean Peninsula during talks with Russian FM Sergey Lavrov, who passed the North Korean leader a personal letter from President Vladimir Putin.
"We will continue to denuclearize the Korean Peninsula in a new era, in a new way, in a new way to find solutions to their respective problems, step by step," Kim Jong-un was quoted as saying by KCNA following Thursday talks. The North Korean leader added that he hopes to "solve problems with efficient and constructive dialogue and negotiation."
Pyongyang's commitment to denuclearization of the peninsula remains "unchanged, consistent and fixed," Kim underscored.
After receiving a "personal letter" from Putin, which was delivered by Lavrov, Kim expressed hope to promote "high-level" talks in order to "continue to develop strategic and traditional relations" between Russia and North Korea. The date for the talks has not yet been set, however, with the Kremlin spokesman Dmitry Peskov noting that "it is too early" to talk about the meeting between Kim and Putin.
Lavrov's meeting with Kim, of which RT crew had an exclusive glimpse, coincided with US Secretary of State Mike Pompeo's consultations with Kim Yong-chol, vice chairman of the DPRK's ruling Workers' Party, who on Friday plans to hand-deliver Kim's letter to US President Donald Trump.
The North Korean delegation arrived to US shores in an effort to salvage the historic Kim-Trump meeting, originally scheduled to be held in Singapore on June 12. Last week, Trump seemingly changed his mind, citing "tremendous anger and open hostility" displayed by Pyongyang, despite the fact that North Korea released three American prisoners and demolished the country's nuclear test site.
"We'll see, and hopefully we'll have a meeting on the 12th; that's going along very well, but I want it to be meaningful," Trump noted Thursday. "It doesn't mean it gets all done at one meeting. Maybe you have to have a second or third, and maybe we'll have none, but it's in good hands. That I can tell you."
Meanwhile, Russia is prepared to support any "concrete agreements" that might result from Korean peace talks, Lavrov said after meeting his counterpart Ri Yong-ho, provided they "meet the interests of all parties involved, including the DPRK."
Think your friends would be interested? Share this story!