NJ cop caught on camera punching girl in the head (VIDEO)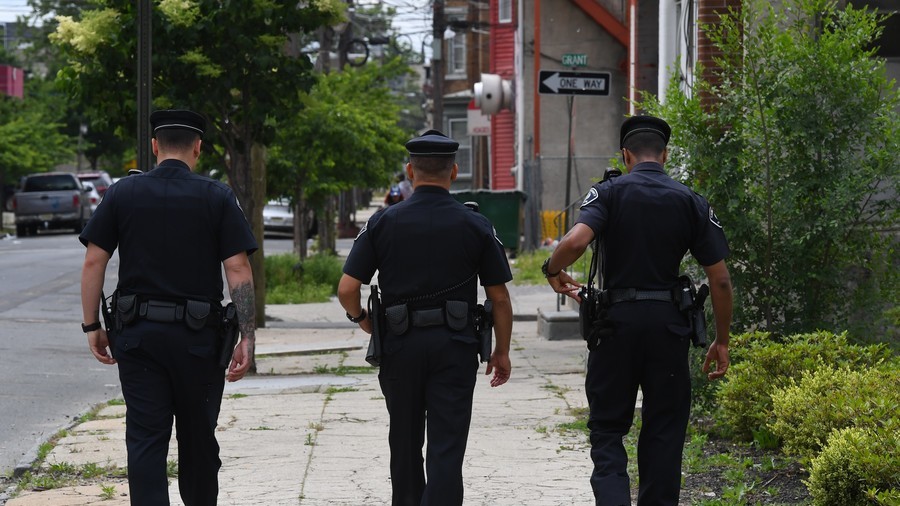 A video showing a police officer punching a girl in the head as she apparently resisted arrest on a New Jersey beach on Saturday has gone viral.
Footage of the incident was shared on social media by Twitter user @HewittLexy, who said she was sleeping on Wildwood Beach when she woke up to the altercation just after 4pm local time. RT has reached out to Wildwood Police Department for comment on the video.
At the start of the clip, a woman can be seen pinned down by two police officers as people in the background shout "stop resisting." One officer punches the woman twice in the head before dragging her around until she is face down with her legs stretched out. Police then appear to handcuff her as the clip ends.
A baby can be seen in the arms of a man at the start of the video. The cries of an infant can also be heard during the incident.
The footage has since been shared on Facebook by the woman in question, Emily Weinman. In a detailed post, Weinman explained that she was on the beach with her partner, her 18-month-old baby, and a friend when police approached them.
She claims that the police response caught on video happened after she passed a breathalyzer test and refused to give her name.
Weinman admitted in the post that she was underage and had alcohol on the beach when officers came over to her. However, she maintains that she had not consumed any alcohol and had passed the breathalyzer test.
When police continued to stay in the vicinity, she asked them if they had anything better to do than search for people drinking underage. The officer then said: "I was gonna let you go but now I'll write you up," Weinman alleges.
Weinman said she refused to give her name to the officer, who then threatened to arrest her.
"I tripped and fell and the cop tackled me to the ground and smashed my head into the sand. At that point I blacked out and fought any way possible trying to get up and push him off me," she said.
Weinman admitted that she should have given the officer her name but said the whole incident was blown out of proportion and has resulted in her loss of trust in law enforcement.
The Wildwood Police Department told NJ.com that there was no one available to comment on the incident until after the Memorial Day holiday on Monday.
Think your friends would be interested? Share this story!