Russian tightrope walker stuns St. Petersburg as he crosses Neva River over open bridge (VIDEO)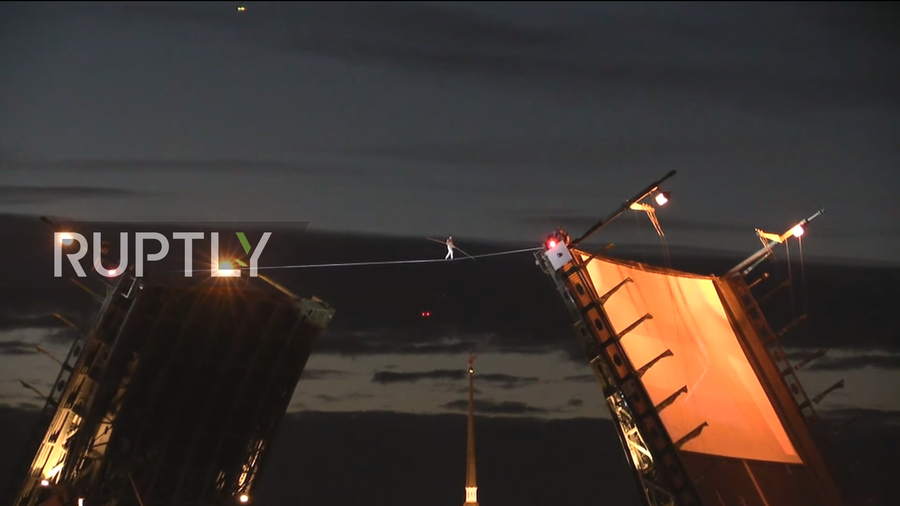 To mark the birthday of Russia's 'northern capital' of St. Petersburg, one daredevil crossed the Neva River balancing on a tightrope 40 meters (131 ft) above the water, as revelers on the embankment watched him with bated breath.
St. Petersburg's spectacular bridge openings are a tourist magnet on their own, wooing many Russian and foreigners alike each year. As the city was celebrating 315 years since its founding on Saturday, the spectacle came with a cherry on top.
Tightrope walker Rasul Abakarov performed his stunt after dark – since that's when St. Petersburg bridges open – making it even more challenging. Abakarov trotted down a wire strung between both ends of the Palace Bridge as an orchestra below played Russian classics.
The whole nerve-racking performance flew by in literally a minute, but preparations took about two months. Abakarov, who hails from Dagestan, a mountainous region in the Russian Caucuses, said that his native village has supplied many generations of tightrope-walkers.
The idea to brave the night and venture on a rope hanging over a nauseating water surface came to Abakarov in surprisingly mundane circumstances. He got caught in a situation many have experienced in St. Petersburg, when the nightly bridge opening cut off his late trek back home. But where most would just resign themselves to waiting it out, Abakarov decided it was the perfect setting for a balancing act.
You can share this story on social media: