'We'll protect Europe' & other quotes from Putin's SPIEF forum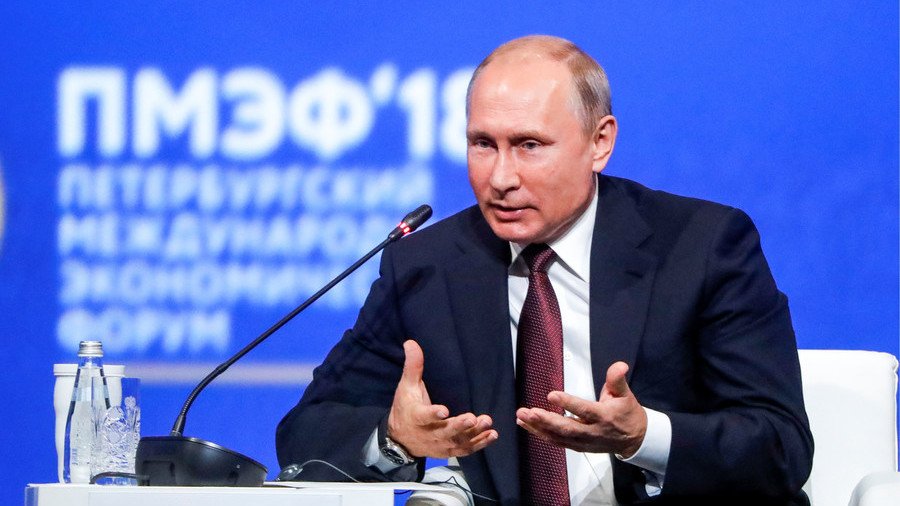 President Vladimir Putin had a busy Friday going on stage at the St. Petersburg International Economic Forum along with several key world leaders. Here are his best quotes selected by RT.
On the rise of protectionism
"We don't need trade wars today or even temporary trade ceasefires. We need a comprehensive trade peace."
On proper resolution of conflicts
"Competition, clash of interests, has always been, is, and will always be, of course. But we must be respectful towards each other. The ability to resolve differences through honest competition rather than by restricting competition is the source of progress."
On universal laws of trade
"The situation in the world today is like everyone is seemingly playing football, but by the rules of judo. Some game it is - neither football nor judo. It's simply chaos."
On compromising Russia's sovereignty to get foreign investments
"If the choice we are offered is either be a sovereign state or face restrictions, we will certainly take the first option."
On European security
"Emmanuel [Macron, the president of France] said Europe and the US have obligations to each other. Europe depends on the US for defense. Don't worry about it – we will help. We will provide security. At least we will do everything we can to prevent any new threats."
On Donald Trump's withdrawal from a nuclear deal with Iran
"I don't see Trump losing from it. He delivers on his election promises, so in this sense, he won domestically. But if the deal is destroyed, then many parties really stand to lose."
On how to deal with Trump
John Micklethwait, the moderator: "Would you have any advice to the world in terms of how to deal with President Trump because you were somebody who was associated with the election of President Trump? What do you think you've got from relationship with him?"
Vladimir Putin: "He is an agent provocateur! I was never associated with the election campaign of Trump. But we certainly cannot be satisfied with the state of Russian-American relations."
Think your friends would be interested? Share this story!
You can share this story on social media: