Naked unarmed black man shot dead by Virginia police in disturbing video (GRAPHIC)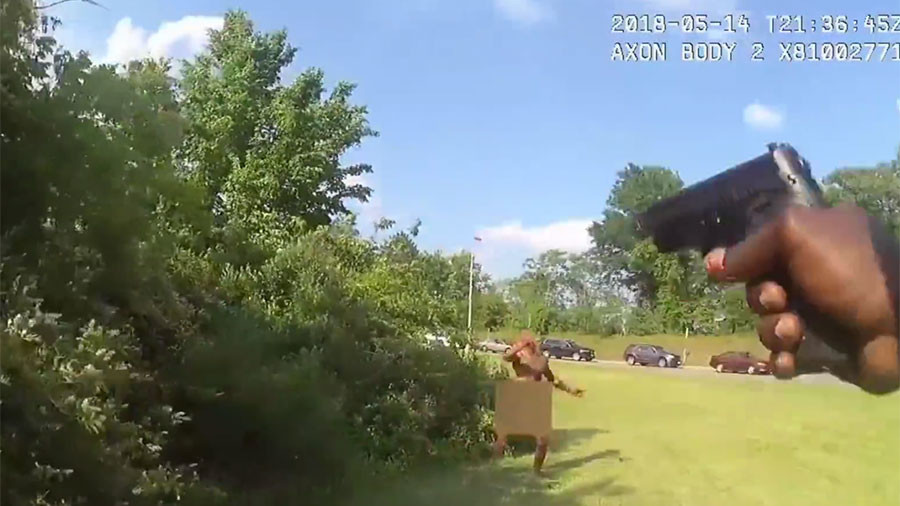 Disturbing bodycam footage shows the fatal shooting of an unarmed and naked black man, who seemed to be "mentally unstable," by a Richmond, Virginia police officer. The incident is currently being investigated.
On Friday, Richmond city police published the body camera video showing how an officer used a stun gun and then "lethal force" against 24-year-old Marcus-David Peters. Chief Alfred Durham said that the video was released to provide transparency in relation to the incident that occurred last week.
WARNING: EXTREMELY GRAPHIC FOOTAGE
The video shows the victim, who was reportedly a high school science teacher, getting out a window of his car after it struck a tree near an interstate highway. Completely naked, Peters is seen running towards the highway, where he appears to be hit by a vehicle and starts rolling on the ground.
READ MORE: US police release footage of NBA player Brown's stun-gun arrest (VIDEO)
The officer, identified as Michael Nyantakyi, a 10-year veteran of the force, is heard remarking that the man was "mentally unstable" and calls for back-up.
Peters then gets up and rushes towards the officer, threatening him. At first, Nyantakyi deploys his Taser against the man, but it fails, while Peters seemingly tries to grab the officer's gun. Gunshots are then heard and the black man is seen limping away and eventually collapsing.
READ MORE: Black woman left topless as Alabama police throw her to floor in Waffle House arrest (VIDEO)
Peters died the next day in hospital and police are now investigating the incident. Peters' family has publicly called for change in "the way that police handle black men and women" regardless of the officers' race, while the Richmond police chief has come out in defense of Nyantakyi's decision to use lethal force.
Think your friends would be interested? Share this story!