Trump meets with families of MS-13 victims as media look the other way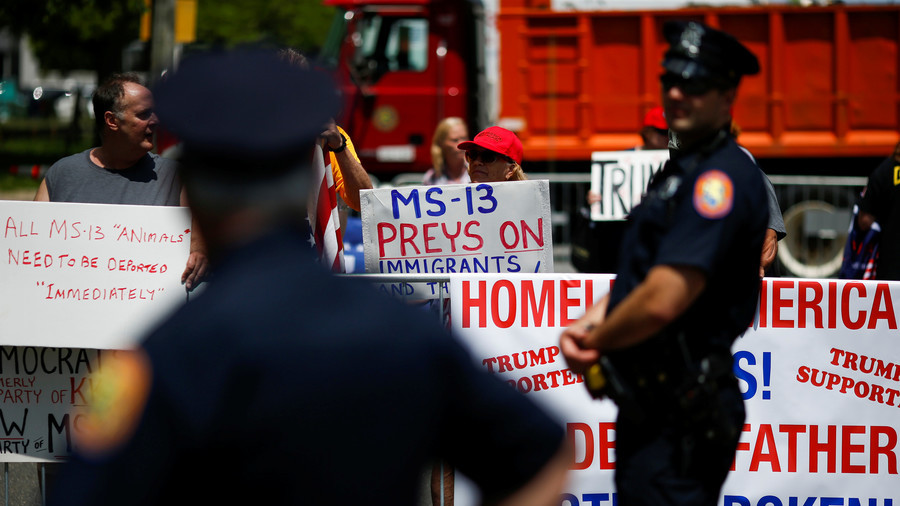 President Donald Trump pushed for tougher immigration laws in a meeting with family members of MS-13 victims, calling the gang members 'animals' again. Media outlets hostile to Trump either ignored the event or called it racist.
Flanked by Deputy Attorney General Rod Rosenstein, several lawmakers and Homeland Security officials, Trump heard testimonies from parents of teens brutally killed by the Mara Salvatrucha gang in Long Island. Many of the families were themselves immigrants from Latin America.
Robert Mickens and Elizabeth Alvarado lost their daughter to the animals of MS-13 and they thanked President Trump for fighting the loopholes in the immigration system this gang is taking advantage of. pic.twitter.com/gypILc7DTT

— The White House (@WhiteHouse) May 23, 2018
Trump argued that "crippling loopholes" in US immigration laws have enabled the gang members and other criminals to infiltrate American communities, blasting Democrats in Congress for resisting his efforts to secure the border.
Major media outlets did not seem interested in broadcasting the event, however. Fox News tuned in for the first 15 minutes or so, while CNN and MSNBC ignored the roundtable altogether.
NBC News later tweeted a 20-second segment of acting ICE director Thomas Homan telling Trump that calling MS-13 gang members "animals" was too kind.
"Animals kill for survival. MS-13 kills for sport," Homan said.
"I think you're being kind," Acting ICE Director Homan tells President Trump at MS-13 roundtable. "Animals kill for survival. MS-13 kills for sport." pic.twitter.com/ZZxiQdr54D

— NBC News (@NBCNews) May 23, 2018
While CNN and MSNBC skipped the immigration event to rehash their standard Russiagate coverage, several overtly partisan outlets critical of Trump followed the meeting, determined to find bigotry.
"Today, the president is speaking at a roundtable discussion on immigration, where his signature overt racism will surely be on full display,"declared Splinter, a service for "politics and social justice news" owned by Univision.
Aaron Rupar, a reporter for ThinkProgress - the media branch of John Podesta's Center for American Progress liberal think-tank - posted video tweets from the event, calling Homan an "Emo Fascist" and describing remarks by DAG Rosenstein as "kissing up to Trump and fear-mongering about brown people."
Trump is taking part in a roundtable event in New York to fear-monger about brown people. Follow me for a real-time video thread. pic.twitter.com/TJaBO0n8hD

— Aaron Rupar (@atrupar) May 23, 2018
During a meeting with local officials from California last week, Trump called MS-13 members "animals," as he has done several times in the past. Many media outlets misreported the remarks as referring to illegal immigrants or even Latin Americans in general, however. Senior Democrats then criticized the president for alleged bigotry.
On Monday, the White House doubled down on the terminology, releasing a statement that called MS-13 "animals" a total of 10 times, and taunting the Democrats and media critics to continue defending the gang.
Trump campaigned on the promise to build a wall along the US-Mexican border and crack down on illegal immigration. Once in office, he also imposed a temporary travel ban on several countries - some of them majority-Muslim - and revoked DACA, the program shielding some illegal immigrants from deportation that was enacted by the Obama administration. Democrats have denounced his actions as racist. The US Supreme Court has yet to rule on DACA and the travel ban, though it has allowed the ban to take effect in the meantime.
Like this story? Share it with a friend!