US approves $45mn sale of 3,200 bombs & bunker busters to Bahrain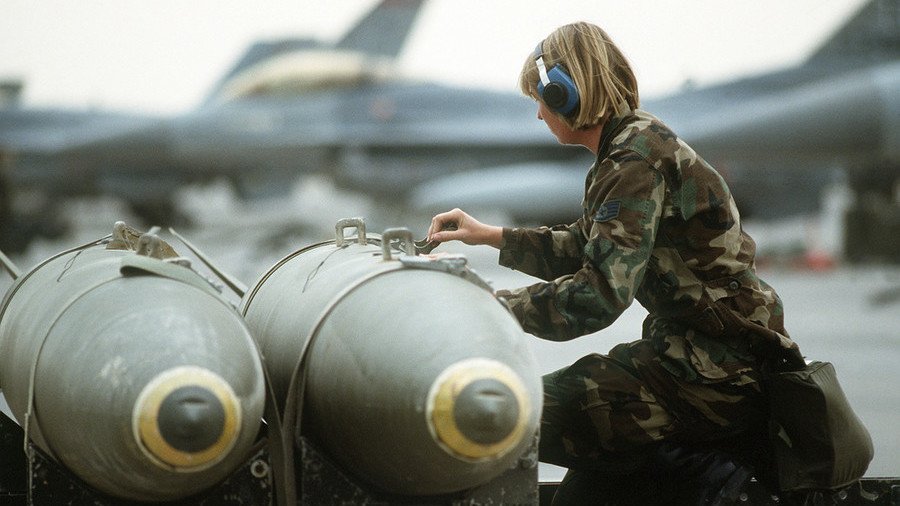 The US has cleared the sale of 3,200 bombs valued at about $45 million, including powerful bunker busters, to Bahrain. The Persian Gulf monarchy is hosting the US 5th Fleet and has been involved in the Saudi-led bombing of Yemen.
The order would consist of 1,500 Mark-82 general purpose bombs; 600 Mark-83 bombs; 600 Mark-84 bombs; and 500 BLU-109 "bunker busters," bombs armed with special warheads designed to penetrate hardened targets, the Defense Security Cooperation Agency announced on Friday.
The ordnance is intended for Bahrain's US-made F-16 combat jets, and would come directly from US government stocks. Bahrain "will use these munitions as a deterrent to regional threats, strengthen its homeland defense, and execute counter-terrorism operations," the agency said, as well as "operate with US-led and US-supported coalition operations."
It was not immediately clear where the US-supplied bombs might be used, and against whom. Bahrain is part of both the US-led coalition fighting against Islamic State (IS, formerly ISIS) and the Saudi-led coalition that has fought in Yemen since 2015. As only a handful of IS-held pockets remain in the desert of eastern Syria, it is far more likely the US-supplied bombs will be used in Yemen.
The US does not track whether ordnance it supplies to the Saudis and their allies is used in Yemen, often against civilian targets.
Human rights activists in the US have also condemned Washington for its support for the gulf monarchy, citing its record of suppressing dissidents. In 2011, when Shia Muslims of Bahrain organized protests inspired by "Arab spring" events in Tunisia and Egypt, the monarchy cracked down on them with the help of the Saudi military. Washington has not raised objections to the crackdown, as Bahrain is the home base of the US Navy's 5th Fleet.
In March, the US announced it would sell $1 billion worth of weapons to Saudi Arabia, including $670 million worth of anti-tank missiles, after the chairman of the Senate Foreign Relations Committee, Bob Corker (R-Tennessee), lifted an eight-month moratorium on arms sales to Gulf Cooperation Council states.
The State Department is required by law to notify Congress of any arms sales approvals. The final sale has to be cleared by the Senate.
Like this story? Share it with a friend!
You can share this story on social media: