Russia expands supersonic bomber patrols to Arctic & beyond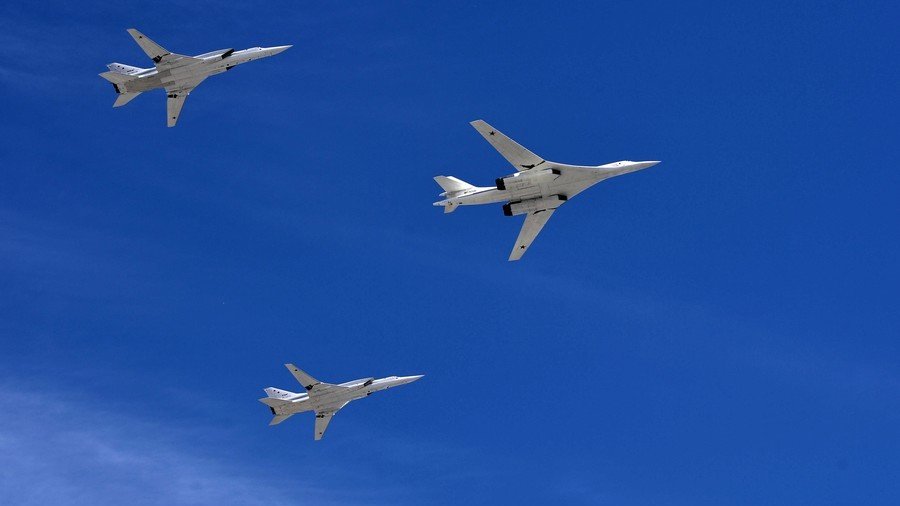 Russian strategic nuclear forces are expanding their global reach and paying special attention to patrolling the Arctic with supersonic bombers, according to the long-range strategic air force commander Sergey Kobylash.
"This year, we plan to fly Tu-160s to Anadyr [Russia's easternmost Arctic town]. The Arctic is of strategic importance to us and we have been exploring new airfields and other ways of beefing up security on the maritime border," Major-General Kobylash told the Defense Ministry's Krasnaya Zvezda newspaper.
READ MORE: US stages Alaska drills 'to fight & win Arctic' in face of Russian dominance (VIDEOS, PHOTOS)
The air force commander also recalled how Tu-22M3 bombers carried out landings in Anadyr in Russia's Far East for the first time last year, as well as in Vorkuta, situated just north of the Arctic Circle. However, strategic nuclear forces patrols also conquered new horizons over warm waters across the globe, the major general noted.
"The flights of strategic bomber crews and missile carriers to the equator, to Indonesia, show that the range of tasks is increasing along with the range of those flights and airfields where we are instructed to report our presence," Kobylash said.
He also noted that the Tu-160 supersonic heavy strategic bomber is now armed with advanced Kh-102 cruise missiles, while Tu-22M3 supersonic long-range strategic and maritime strike bombers carry Kh-22 long-range anti-ship missiles.
Over the past few years, Russia has greatly expanded its border security in the Arctic region, which had been virtually non-existent since the fall of the Soviet Union. This has involved the construction of new bases and refurbishment of old ones, as well as the installation of long-range radars, well-equipped troops and special forces.
READ MORE: 1st since Soviet times: Russian anti-sub aviation flies to N. American shores via North Pole
The country has four permanent military compounds in the region at present, including the northernmost military installation, dubbed Arctic Trifoil. The station is the world's only permanent structure built at 80 degrees latitude north of the equator.
Like this story? Share it with a friend!
You can share this story on social media: