Putin & Assad hold 'extensive' talks in Sochi, discuss political settlement – Kremlin
Russian President Vladimir Putin has held a meeting with the Syrian leader Bashar Assad in Sochi, the acting presidential spokesman Dmitry Peskov said. The two leaders conducted "extensive" negotiations, he added.
As the two presidents talked about the conditions that would facilitate the peace process development, the Syrian leader said that he had decided to send a delegation to a committee tasked to rewrite Syria's constitution, which was championed by the UN.
The agreement on the creation of the constitutional committee was one of the major results of the Sochi peace congress held in January this year. The participants of the congress agreed on January 30 to set up the constitutional committee in Geneva, and to hold democratic elections in Syria.
At that time, Moscow said it expected the UN special envoy to Syria, Staffan de Mistura, to take practical steps to implement the decisions taken at the Sochi Congress, and to actively participate in the drafting of a new constitution for Syria. The three countries, who brokered the Sochi Congress, Russia Iran and Turkey vowed to fully support the UN and de Mistura in the implementation of its outcomes.
The Constitution Commission is expected to comprise some 150 members including the delegates from those groups who did not attend the Sochi gathering in January.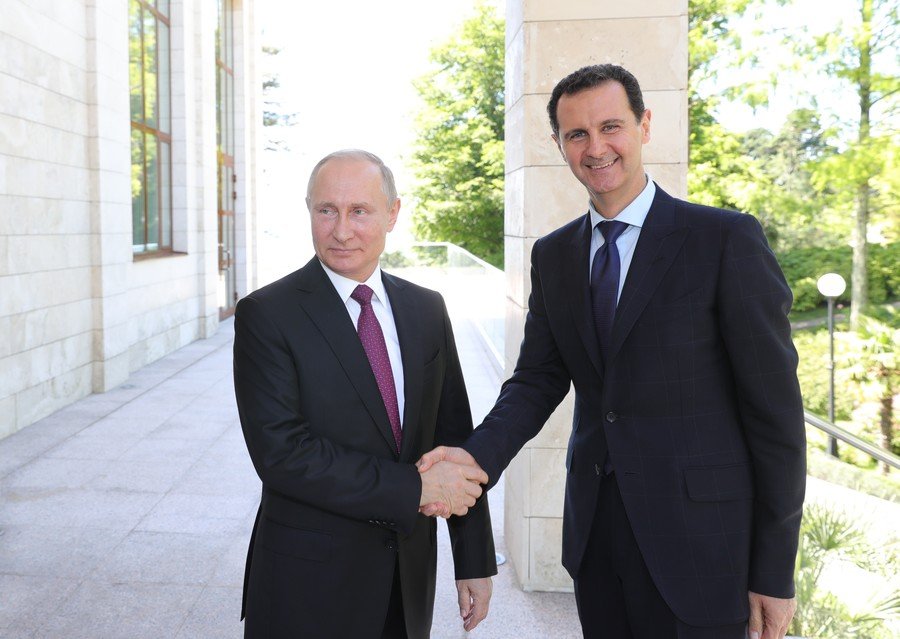 During the Thursday meeting, the two leaders also discussed the necessity to intensify humanitarian efforts in Syria as well as the issues related to economic recovery of the war-torn country, Peskov said. Putin also congratulated Assad on "significant advance in fighting against the terrorist groups" on the Syrian territory.
In late April, it was reported that the Syrian authorities had struck several agreements with the rebel armed groups in the Homs and Hama provinces as well as in liberated Eastern Ghouta. The militants were allowed to travel to the rebel-held northwestern province of Idlib. In exchange, some 5,000 people besieged by the armed groups in the towns of Kefraya and al-Foua'a were released. Earlier, the Syrian Army also recaptured the al Qadam neighborhood located southeast of Damascus.
READ MORE: Damascus, militants reach deal to evacuate armed groups from Homs area
Meanwhile, the Syrian forces are also still engaged in heavy fighting against Islamic State (IS, formerly ISIS) terrorists in the camp of Yarmouk, south of Damascus. Yarmouk, a former Palestinian refugee camp which was captured by the extremists back in 2015, is the last IS stronghold near the Syrian capital. Up to 2,000 terrorists are believed to be encircled there.
If you like this story, share it with a friend!
You can share this story on social media: