Damascus, militants reach deal to evacuate armed groups from Homs area
Published time: 2 May, 2018 23:53
Edited time: 3 May, 2018 10:16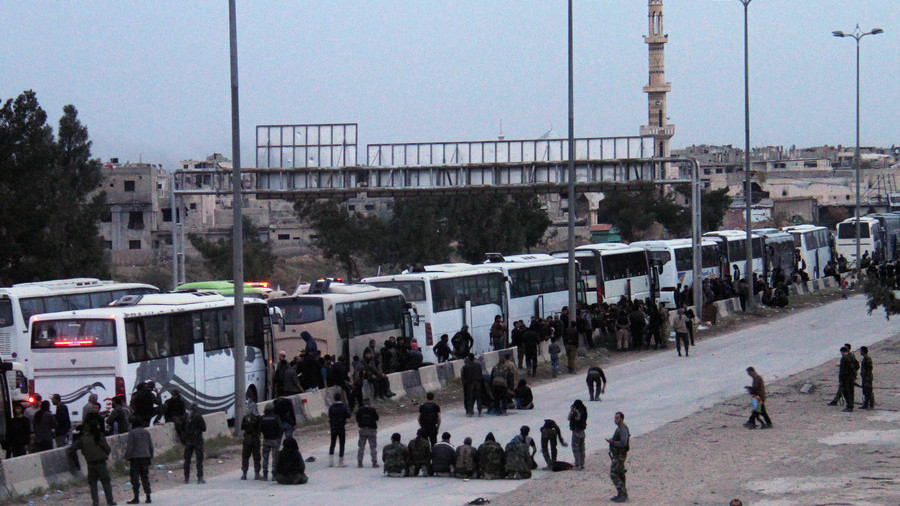 The Syrian government has struck an agreement with the rebel armed groups in the Homs and Hama provinces. The deal involves providing a safe passage to the militants in exchange for handing over the territory to the Syrian forces.
Under the terms of the deal, those militants who refused to cease fighting would be transferred to the north-western Syrian province of Idlib, alongside their families. The transfer would take place within two days after the conclusion of the agreement, the Syrian SANA news agency reports.
The militants have to hand over their heavy and medium weapons, the report adds. The rebels also pledged to pass their maps of tunnels and mine fields, as well as ammunition depots, to the Syrian forces.
The Syrian Army would then enter the enclaves, which were previously held by the armed groups in the two central provinces of the war-torn country. The enclaves included the towns of Houla, Rastan, and Talbiseh as well as villages around them, which lie on a main highway between the cities of Homs and Hama.
The agreement also provides an opportunity for those who are willing to lay down their arms to settle their status with the Syrian authorities. "The Syrian army and armed groups reached an agreement with Russian sponsorship for the armed groups to exit," a source within a militia unit run by Lebanon's Hezbollah told Reuters. In late April, the Syrian government struck a similar deal with the rebel groups that controlled parts of the same region.
The militants were allowed to travel to the rebel-held northwestern province of Idlib. In exchange, some 5,000 people besieged in the towns of Kefraya and al-Foua'a were released. Earlier, the Syrian Army also recaptured the al Qadam neighborhood next to the camp.
The operation is a part of a larger Russia-sponsored effort to clear Damascus suburbs of militants, by allowing them and their families to leave for other rebel-held areas. Two weeks ago, an agreement was reached for the militants to evacuate the eastern Qalamoun region, some 50 kilometers northeast of the Syrian capital.
READ MORE: Military targets in Hama & Aleppo, Syria hit by missiles – state TV
In the meantime, the Syrian Army found an extensive network of tunnels in the recently liberated areas in al-Hajar al-Aswad and al-Qadam in southern Damascus. A Syrian Army field commander told SANA that the military units notably found Israeli-made munitions and some materials, which are believed to be chemicals, in the area.
Meanwhile, the Syrian forces are also still engaged in heavy fighting against Islamic State (IS, formerly ISIS) terrorists in the camp of Yarmouk, south of Damascus.
The former Palestinian refugee camp, Yarmouk, which was captured by the extremists back in 2015, is the last Islamic State stronghold near the Syrian capital. Up to 2,000 terrorists are believed to be encircled there.
If you like this story, share it with a friend!