Military targets in Hama & Aleppo, Syria hit by missiles – state TV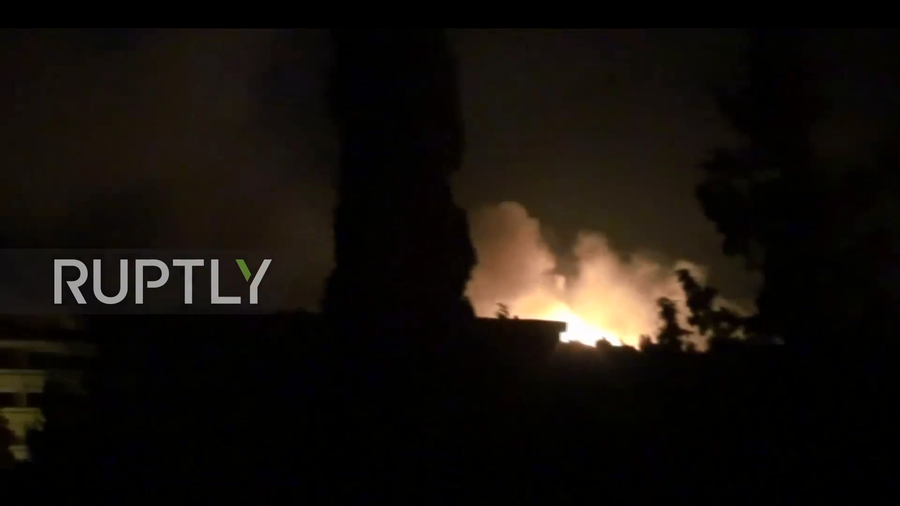 Powerful explosions have been heard in the countryside of Hama and Aleppo provinces, the Syrian state news agency reports. The state media says military bases there were hit by rockets launched by an unspecified enemy.
The alleged attacks were reported by Syria's Sana news agency on Sunday evening. Citing a military source, it said that "a new aggression with hostile missiles" took place at around 10:30 pm local time, targeting military positions in the Hama and Aleppo villages.
A Syrian law enforcement source told RIA Novosti that the army's munition depots were hit, in what was most likely an airstrike.
The source said one of the targeted military sites was a munition depot belonging to the Syrian Army's 47th Brigade. A fire at the depot broke out as a result of the attack, he said. Another target was reportedly a munition depot to the east of Aleppo, in northern Syria, located between the Al-Malikiayh and Al-Nayrab airport.
There have been unconfirmed reports of injuries and fatalities as a result of the reported strike. Sky News Arabia reported, citing rebel sources, that over 40 people might have been killed.
Some Western media reported that dozens of Iranians were killed in the alleged missile attack on the Syrian military facilities. These reports were, however, then dismissed by the Iranian Mehr state news agency that called them "false" and said, citing its sources, that no Iranian nationals were killed or injured in the incident.
Videos posted online, allegedly from the scene of one of the strikes, show a massive explosion that lights up the skyline.
The explosions at the Hama depot lasted for over an hour and a half, spreading to the nearby area and forcing some of the residents to flee their homes, Sky News reported, citing sources.
The Pentagon has denied responsibility for the attack. Neither the US nor any other members of the US-led coalition launched any strikes on the facilities near the cities of Hama and Aleppo, Pentagon spokesman Major Adrian Rankine-Galloway told TASS, commenting on the issue.
Israel has so far neither confirmed nor denied that it is behind the strikes. Defense Minister Avigdor Lieberman said "we have no intention to attack Russia or to interfere in domestic Syrian issues… But if somebody thinks that it is possible to launch missiles or to attack Israel or even our aircraft, no doubt we will respond and we will respond very forcefully." The defense chief stressed that Israel "will maintain freedom of operation in all of Syria" to "prevent Iran from establishing a forward base in Syria."
Earlier this month, Israeli jets crossed into Lebanon's airspace to carry out an airstrike on Syria's T-4 airbase near Homs, reportedly killing seven Iranian advisers. Two Israeli warplanes fired eight guided missiles, five of which were shot down by Syria's air defenses, according to the Russian military. Iran's Supreme Leader Ali Khamenei denounced the April 8 airstrike as "Israel's crime," vowing retaliation.
When asked about the latest attacks, the Israeli military neither denied nor confirmed its involvement. Contacted by RIA Novosti, the Israeli Defense Forces (IDF) press spokesperson said that she would not comment on the issue.
In mid-April, a massive joint air and missile strike by American, British and French forces hit one civilian and two military targets, which the Western powers claimed were related to Damascus' alleged chemical weapons program. That airstrike was publicly announced by the three nations' leaders and resulted in no fatalities. It caused massive strain on the diplomatic relations between the three attackers and Russia, whose forces are present in Syria on Damascus' invitation to help fight extremists.
You can share this story on social media: