Deal reached to evacuate Syria's Yarmouk Palestinian refugee camp – state media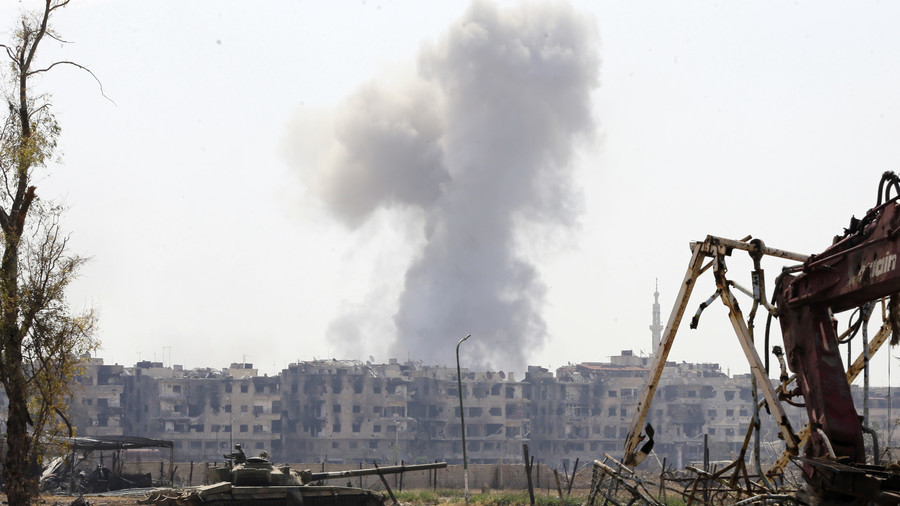 The Syrian government has struck a deal with rebel groups in southern Damascus, allowing them safe passage in exchange for the evacuation of civilians in two besieged towns, state media reported.
Under the agreement, opposition fighters holed up in the Palestinian refugee camp of Yarmouk can travel to the rebel-held northwestern province of Idlib. Some 5,000 people besieged in the towns of Kefraya and al-Foua'a will then be released in two stages, according to the official SANA News Agency.
Implementation is expected to begin on Monday and is scheduled to be complete before the start of Ramadan on May 15.
The announcement comes nearly two weeks into the government's campaign to oust Islamic State (IS, formerly ISIS) group fighters from the capital's southern suburbs, including the Palestinian refugee camp of Yarmouk.
Yarmouk was home to some 160,000 Palestinians before the Syrian conflict began in 2011.It was stormed by IS militants in 2015. According to the UN, some 3,500 Palestinian refugees are believed to have fled the embattled camp since the Syrian government launched a renewed offensive on April 19.
Earlier, state media announced the al Qadm neighborhood next to the camp had been retaken. Opposition sources, cited by Reuters, claimed that the army was engaged in fighting with Islamic State militants on the outskirts of Yarmouk camp, where up to 2,000 militants are encircled.
A deal has also been reached to evacuate rebel fighters from the areas of Yalda, Babila and Beit Sahem, also in southern Damascus, according to SANA. The deal gives fighters the choice between leaving the area with their families or handing over their weapons and staying, AFP reported.
The operation is a part of a larger Russia-sponsored effort to clear Damascus suburbs of militants by allowing them and their families to leave for other rebel-held areas. Two weeks ago, an agreement was reached for the militants to evacuate the eastern Qalamoun region, some 50 kilometers northeast of the Syrian capital. As a part of the deal, they left behind heavy and medium weapons.
A total of 21,145 militants and their families have been evacuated from Douma under a Russia-brokered agreement by the time that the city, which was the last major militant stronghold in the war-ravaged Damascus suburb of eastern Ghouta, was liberated by the Syrian Army.
If you like this story, share it with a friend!