Syrian Army declares full recapture of Eastern Ghouta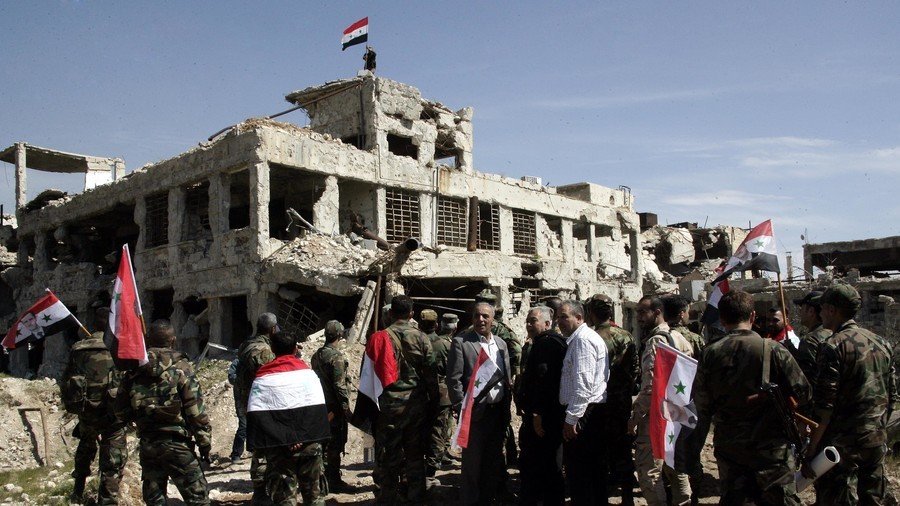 The war-ravaged Damascus suburb of Eastern Ghouta has been completely liberated from militant groups, the Syrian Army has confirmed. The statement comes after the last militants left Douma.
The Syrian armed forces have seized all the towns and villages located in the Damascus suburb, the statement issued late Saturday said. They also confirmed that all members of the armed groups have left the area – particularly Douma, which was the last major militant stronghold in Eastern Ghouta.
Syrian engineering units have already started to clear away the rubble and remove mines and improvised explosive devices left behind by the militants. While searching through the ruins, Syrian forces found ammunition factories and weapons depots, as well as a large number of tunnels in the area.
The Russian Defense Ministry earlier deployed military police to the liberated area to team up with Syrian law enforcement and begin the registration of local residents.
"The construction equipment that has been handed over by the Russian Reconciliation Center to the local authorities, has started to… restore the local infrastructure," the ministry said in a statement, adding that the technical services are now working on bringing water and energy service back to the area.
The Russian Reconciliation Center also confirmed on Saturday that the last group of militants and their family members have left Douma. "The militants' withdrawal from the city has been completed," the head of the Syrian Reconciliation Center, Major-General Yuri Yevtushenko said, adding that a total of 21,145 militants and their family members have been evacuated from Douma since April 1.
The recapture of Eastern Ghouta follows a months-long operation of the Syrian Army aimed at liberating the area which has been under the control of armed groups for almost seven years, as it was one of the first to be seized by militants at the very beginning of the civil war. The Syrian forces, together with the Russian Reconciliation Center, also launched a humanitarian operation to help civilians leave the besieged area.
The first civilians started to flee Eastern Ghouta via humanitarian corridors in mid-March. Militants shelled civilian areas to prevent them from leaving the war-ravaged enclave and held locals hostage. Still, more than 160,000 people have managed to leave the besieged Eastern Ghouta in what is believed to be the largest exodus in the country's seven-year war, according to the latest Russian Defense Ministry data.
Like this story? Share it with a friend!
You can share this story on social media: