UK claim of 'humanitarian reasons' for Syria strikes picked apart online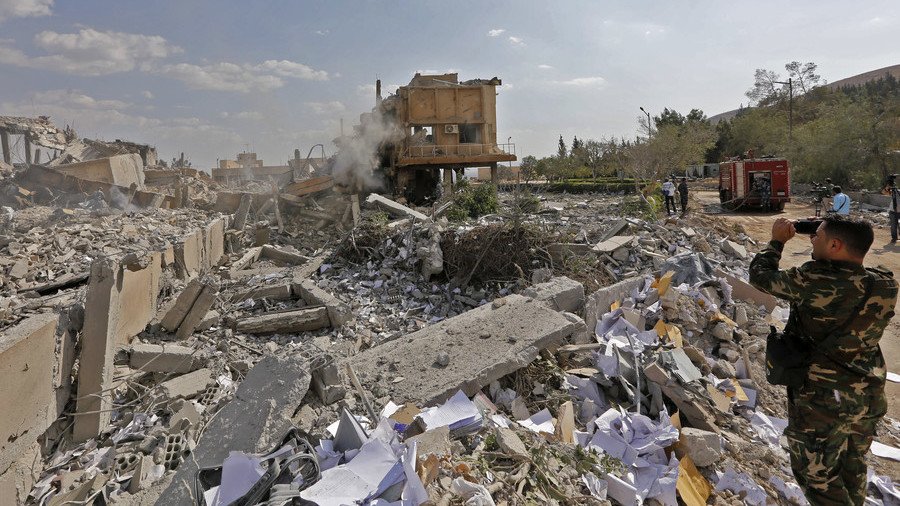 The United Kingdom's deployment of the "humanitarian" card to justify its airstrikes on Syria has raised more than a few eyebrows, with opposition politicians, journalists and members of the public picking it apart on Twitter.
Speaking at the United Nations Security Council on Saturday, Britain's UN ambassador, Karen Pierce, laid out the UK's legal justification for their airstrikes on Syria. Pierce claimed that under international law the UK is allowed to take measures in order to "alleviate overwhelming humanitarian suffering."
The UK government also published the legal position online. It says that three conditions have to be met to justify the intervention.
First, there has to be convincing evidence of extreme humanitarian distress on a large scale. Importantly, this must also be "generally accepted by the international community as a whole."
READ MORE: 'Mission accomplished': Trump praises 'perfectly executed' strike on Syria
It also must be objectively clear that there is "no practicable alternative" to the use of force if lives are to be saved. Finally, the use of force must be "necessary and proportionate" to the proposed relief of humanitarian suffering.
The news that the British government was citing humanitarian reasons for launching missiles sparked a flood of reaction on social media, with many people saying that it had not met any of the criteria it laid out.
First Minister of Scotland Nicola Sturgeon described the legal position as "thin" and said it is "not easy to see how [the] humanitarian crisis - the result of years of civil war - will be helped by air strikes."
Opposition leader Jeremy Corbyn also called the strikes "legally questionable."
BBC political editor Laura Kuenssberg noted that the UK is one of the few countries that tries to use humanitarian arguments as a justification for military action. She added that most international lawyers don't accept the contention.
Others called out Theresa May's government and its US allies for claiming to be concerned with humanitarian suffering when and where it suited them, while showing blind indifference to suffering in other areas.
Russian President Vladimir Putin also thoroughly dismissed the "humanitarian" argument, saying the US-led coalition's actions made the humanitarian catastrophe worse, caused pain for civilians, and damaged international relations.
Like this story? Share it with a friend!
You can share this story on social media: