'They're trying to kill him': Pamela Anderson wants Kanye's help to free Assange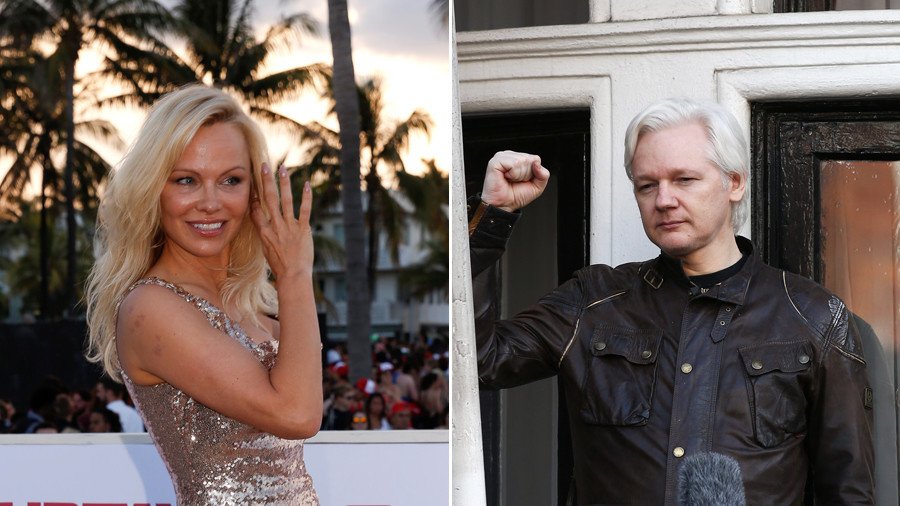 Actress-turned-activist Pamela Anderson has become one of the most vocal allies for WikiLeaks founder Julian Assange, and now she wants Kanye West's help in setting him free.
Cooped up in the confines of the Ecuadorian Embassy in London, the WikiLeaks founder has not set foot outside out of fear that he could be extradited to the US. Amidst all this, the UN has found that Assange's years inside the embassy amount to arbitrary detention.
Former Baywatch star Pamela Anderson has been an unlikely ally for the Australian recently, and, in an open letter published online, the Canadian actress pleaded with fellow celebrity Kanye West for help in bringing Assange to freedom.
READ MORE: Ecuador cut Assange's internet over Catalonia crackdown tweet – source close to WikiLeaks
It comes more than 40 days after the Ecuadorian Embassy blocked Julian Assange's internet access.
Kanye has recently become something of a pariah with liberals in the US by breaking his long Twitter silence to voice strong support for US President Donald Trump. The coming-out cost him millions of followers and triggered numerous op-eds about his "treachery." Assange isn't exactly popular with Trump's opponent's either, who think he colluded with Russian hackers in leaking Democrats' pre-election emails.
In a short message to the Yeezus album hitmaker, Anderson accuses the US government of trying to torture and kill the WikiLeaks founder. She also suggests that Kanye West become a "brave voice" and speak publicly about Assange's work in "exposing governments."
"Hi Kanye," the letter opens. "Hope you are well. I was wondering about your thoughts on Julian Assange. I support him and I know you value free speech. Visibility is good for him in America where they are trying to put him away for life or worse for exposing corruption in governments. I think they are trying to kill him. It is torture."
The correspondence continues: "He's been locked in a small room for almost 6 years in London at the Ecuadorian Embassy. And he now can have no visitors. No phone calls or internet. They are squeezing him. He is genius. A real world leader that young people love. So I want to seek more voices and share more about his fight. Public support could set him free."
The US government has been coy about whether charges against Assange are being pursued in relation to leaked government documents, such as the Chelsea Manning files, which were published by his organisation. US Attorney General Jeff Sessions has said that arresting Assange is a "priority."
If you like this story, share it with a friend!
You can share this story on social media: