'I can't understand her English': Melania trolled for #BeBest speech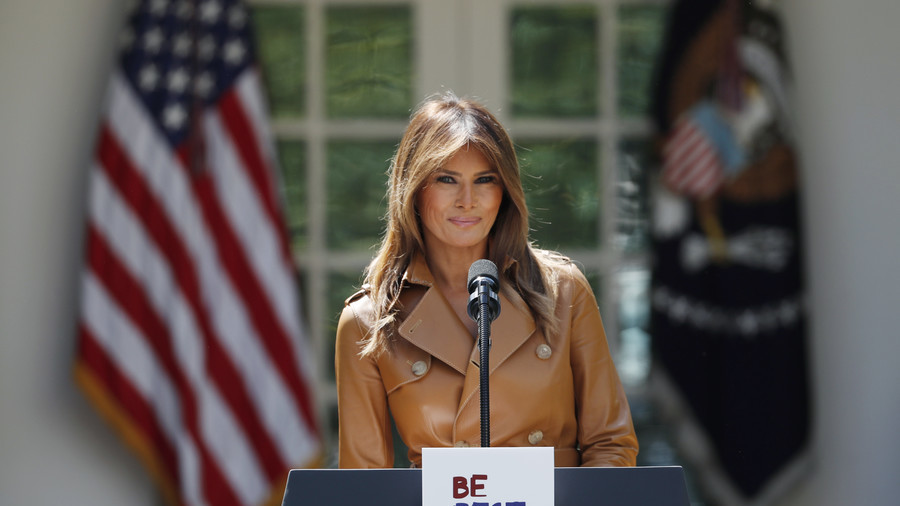 Melania Trump was mocked after she unveiled a new initiative for children called, 'Be Best.' The first lady was accused of using incorrect grammar, plagiarism and she even had her accent criticized.
Trump revealed the program during a speech in the White House Rose Garden on Monday. The Be Best initiative is aimed at combating online bullying, promoting healthy lifestyles and preventing opioid abuse.
The name of the initiative, Be Best, was mocked on social media, as a number of Democrats said it was an improper use of English. Although it is highly unlikely that Trump came up with the name herself, that didn't stop some elements of the left from claiming the inaccurate grammar was as a result of the fact that English is not her first language.
Comedian Jimmy Kimmel also criticized the initiative during his show on Monday. "'Be Best' is the slogan. I think there must be a thought missing, right? There must be a word?" he said. "It was either going to be 'Be Best' or 'Do Goodest,' and they went with 'Be Best.'"
Some social media users even took swipes at Trump's speech and made fun of her level of English. Many on the right called out those who teased her about her accent, highlighting the fact that the first lady speaks multiple languages.
Perhaps the harshest criticisms Trump received were over allegations of plagiarism, and it is not the first time. While President Donald Trump commended his wife's effort, many were quick to point out the similarities between it and one released by the Obama administration.
The White House issued a statement in response to the reaction Trump's speech generated. "After giving a strong speech that was met with a standing ovation and positive feedback, the focus from opposition media has been on an educational booklet, 'Talking with Kids About Being Online' produced by the Federal Trade Commission (FTC) in 2009," White House communications director Stephanie Grisham said in a statement. "Mrs. Trump agreed to add Be Best branding and distribute the booklet in an effort to use her platform to amplify the positive message within."
"Despite providing countless outlets with ample background, information, and on-the-record comments from the FTC, some media have chosen to take a day meant to promote kindness and positive efforts on behalf of children, to instead lob baseless accusations towards the First Lady and her new initiatives," she said.

To some, her Be Best initiative was a bit too close to comments made by former First Lady Michelle Obama, who said men should 'Be Better.'
Think your friends would be interested? Share this story!
You can share this story on social media: