Him too? NYC attorney general who sued Harvey Weinstein resigns after abuse allegations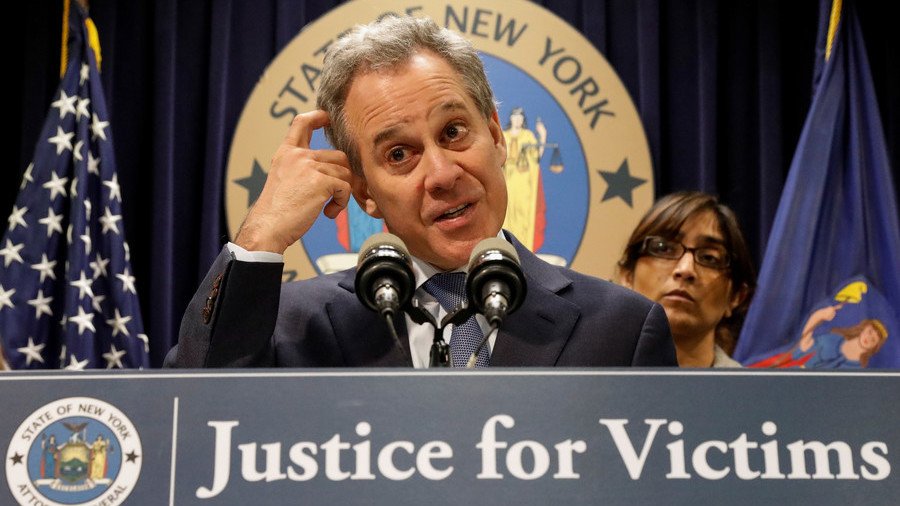 New York Attorney General Eric Schneiderman, famed for prosecuting disgraced Hollywood producer Harvey Weinstein for sexual assaults, is now being accused of violence by four women. He says consensual role-play is what took place.
Schneiderman, who became a star proponent of the #MeToo movement after filing a civil-rights lawsuit against Weinstein, now may see the tables turned on himself, after four women who spoke to The New Yorker accused him of "nonconsensual physical violence."
Two of the women preferred to stay anonymous while two others, Michelle Manning Barish and Tanya Selvaratnam, came forward with their stories of alleged abuse by Schneiderman, providing the magazine with disturbing details of their relationship with the AG.
Each of the named women, who separately had dated Schneiderman from 2013 to 2015 and from 2016 to 2017 respectively, claimed that he repeatedly "assaulted" them by hitting them, including slapping them across their faces. The women did not report the incidents to police but said they required medical help afterwards. Commenting on the allegations, Schneiderman, a Democrat celebrated by women's groups and fellow party members for his contribution to the #MeToo cause, said he had engaged in "role-playing and other consensual sexual activity." However, the women insist that none of the "activity" was consensual, accusing him of glaring hypocrisy.
Statement from Eric T. Schneiderman: "In the privacy of intimate relationships, I have engaged in role-playing and other consensual sexual activity. I have not assaulted anyone. I have never engaged in non-consensual sex, which is a line I would not cross."

— Eric T. Schneiderman (@Schneiderman) May 7, 2018
New York State Governor Andrew Cuomo called on Schneiderman to step down after the explosive revelations, saying that he doesn't believe it's possible for the AG to keep his office "given the damning pattern of facts and corroboration laid out in the article."
Cuomo said he is asking a New York District Attorney to "immediately" launch an investigation into the allegations.
Hours after the article was published and following Cuomo's call, Schneiderman announced his resignation effective as of May 8. Schneiderman said that he "strongly contests" the allegations made against him, stressing that, although they are "unrelated" to his duties, they would prevent him from running the office "at this critical time."
Since the accusations against Weinstein, once a very influential Hollywood mogul, went viral in October 2017, the #MeToo movement encouraging women to speak out about abuse and sexual harassment, particularly at the workplace, has been gaining pace. Notable casualties of the crusade, apart from Weinstein, include comedian Bill Cosby and Oscar-winning director Roman Polanski.
Although the allegations of sexual misconduct against both men are decades-old, they were mostly hushed up or swept under the rug until the growing popularity of the #MeToo movement cast new light on them.
Last month, Cosby was found guilty on three counts of aggravated indecent assault over a 2004 incident in Philadelphia, Pennsylvania. Over 40 women have accused him of sexual misconduct since 2014. Polanski's charges date back to 1977, when he pleaded guilty to unlawful sex with a 13-year-old girl and fled the US to France before sentencing. Last week, both Cosby and Polanski were expelled from the Academy of Motion Picture Arts and Sciences, which cited ethical standards under a new code of conduct it adopted in December, in the wake of Weinstein's expulsion.
You can share this story on social media: