Mural with Trump's head on a spear brings death threats to artist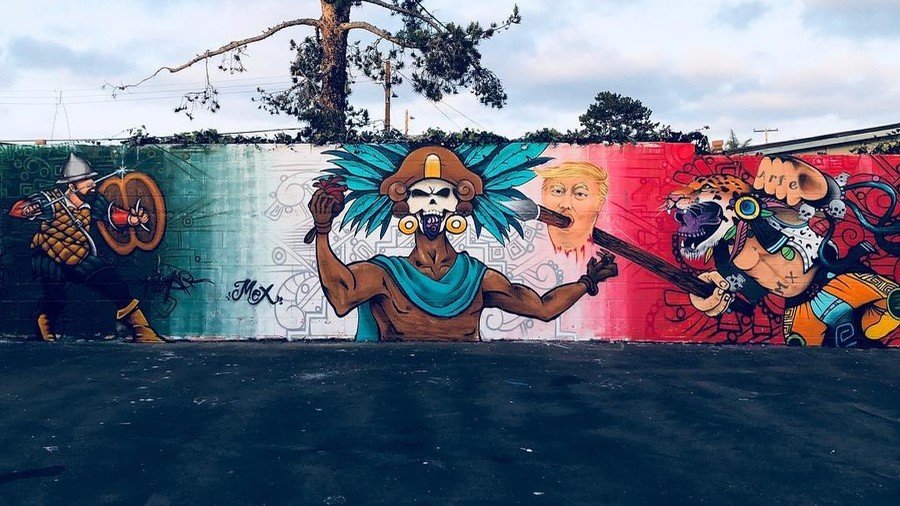 A school mural in California depicting President Donald Trump's severed head on a spear has been covered up, following a deluge of complaints, racist comments and even death threats.
The mural, painted at the Chula Vista MAAC Community Charter School in San Diego County, was created at an annual fundraising event that highlights street art. It shows an Aztec priest holding a human heart, flanked by a Spanish conquistador on one side and an Aztec warrior holding Trump's severed head on a spear on the other. Images shared online of the work have since been removed, but showed the scene set against the backdrop of the Mexican flag.
After posting the photo of the mural on Instagram, artist Sasha Andrade received an onslaught of threatening messages, including death threats. She posted screengrabs of some of the threats she received to her Facebook profile.
"I have been receiving about 30+ messages stating that I should burn in hell, that I should go back to the 'shithole' I came from, because since my last name is Hispanic they assume I am an illegal alien," Andrade told RT. "They have called me so many things I don't remember them all."
"The worst part is, it is mostly people in their later 40s maybe 50s," she added.
Some of the threats included references to her dead infant nephew, while most were racist, Andrade told RT. One message she shared reads, "I hope you and your family burn in hell and have a nice slow death and I especially hope the little baby and [sic] all your pictures gets raped and burned by a filthy f****** Mexican just like yourself."
After receiving a deluge of complaints, the school said it would alter the mural, since it "does not align with our school's philosophy of non-violence," MAAC Community Charter School director Tommy Ramirez said in a statement.
The mural has been painted-over and the artists have agreed to "create a new mural that better aligns with the school's philosophy," Ramirez said.
"We were not forced to take it down, we did it voluntarily," Andrade told RT, adding that the original solution to alter the artwork was changed as a result of the volume of threats. The artists are creating a new mural featuring local community leaders.
One of the artists involved with the mural, Mode Orozco, told local media he did not understand the outrage over the mural.
"He called us rapists, you know, drug dealers," Orozco told San Diego's KGTV, referring to Trump's comments about some immigrants from Mexico. "And now people think this [mural] is violent, aggressive, unrespectful, I don't understand."
The San Diego mural isn't the first time someone has depicted a Trump decapitation. The president denounced comedian Kathy Griffin as being "sick" after she posed with a fake severed Trump head last May.
Kathy Griffin should be ashamed of herself. My children, especially my 11 year old son, Barron, are having a hard time with this. Sick!

— Donald J. Trump (@realDonaldTrump) May 31, 2017
If you like this story, share it with a friend!
You can share this story on social media: